Too bad! Sweet Home 3D summer survey is over. Friends have left, bottles are empty, summer is finished...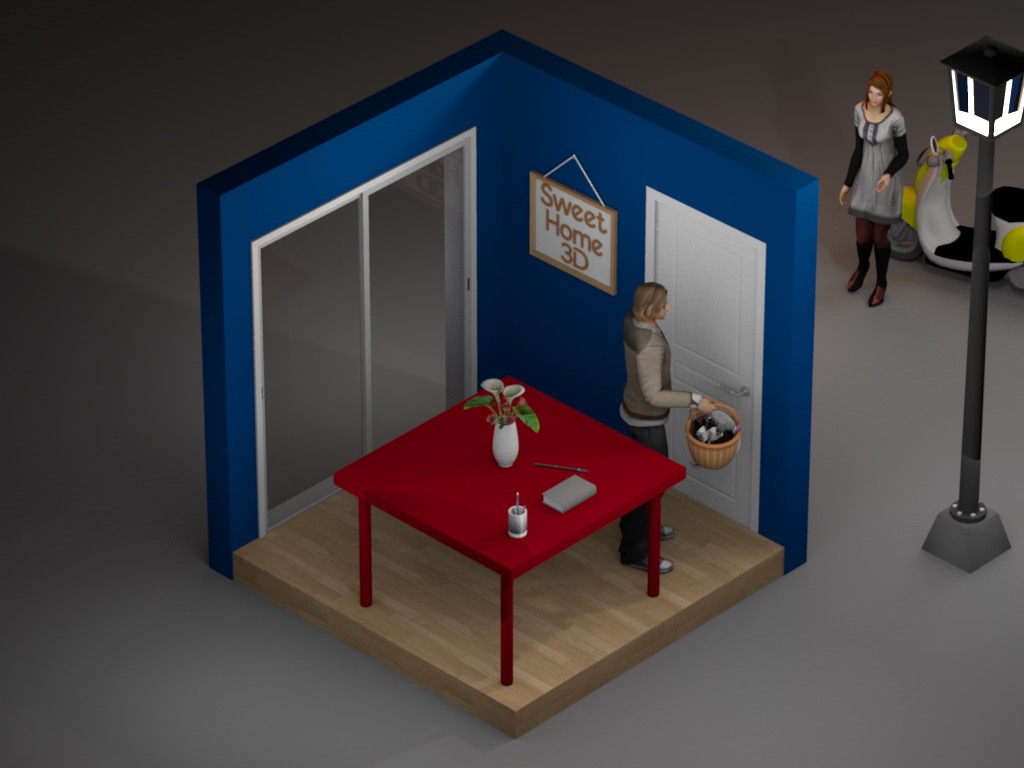 Thank you very much for your participation that helps us to know you better.
Nearly 500 persons answered to the first question. Nothing compared to the 10,000 downloads per day, but it starts to be interesting data.
We have been touched by your loyalty, by your creativity, and by the wide range of your answers and the different ways you are using Sweet Home 3D. We suppose it's because Sweet Home 3D is well known all around the world. Long live to the Sweet Home 3D international community!
In details, find below the answers and our comments:
Q1: You and Sweet Home 3D (471 answers)

We are happy to know that 45% of you use regularely Sweet Home 3D and 12% do it every day! Maybe some of you exagerate a little!... Anyway, it actually must mean that you like designing and hopefully tends to confirm that Sweet Home 3D stimulates your creativity and your skills.
Q2: How do you use your Sweet Home 3D? (320 answers)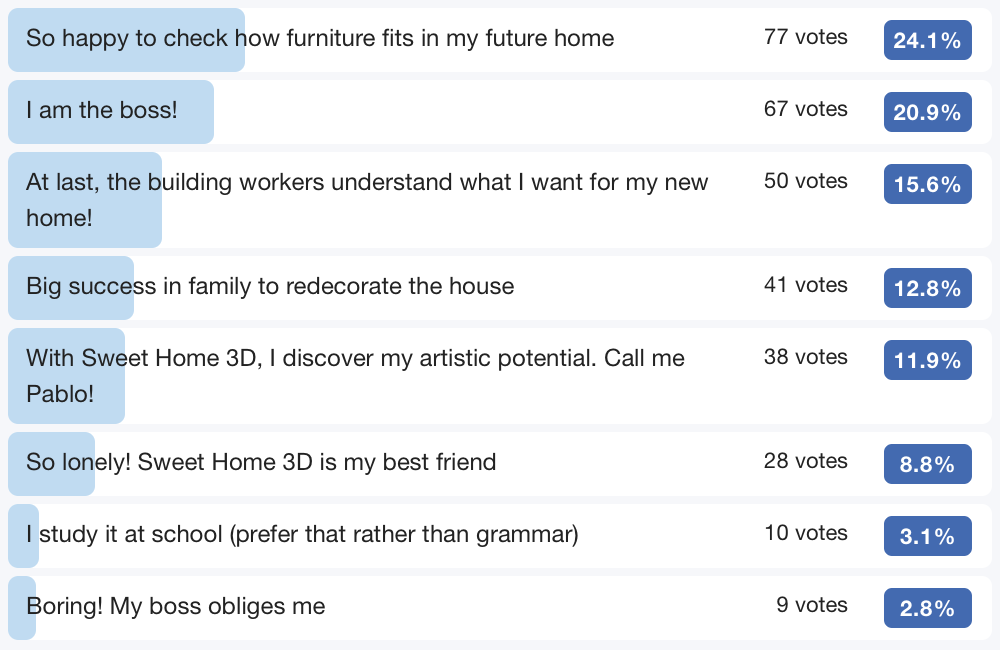 "I am the boss" was a joke, coming just after the proposed answer "Boring! My boss obliges me". But, in a way, you are right, you are the boss, free to do what you want with Sweet Home 3D. Arrange your furniture (24%) and decorate your rooms (13%), but also build the entire home (16%) and feel as an artist (12%).
Where were the pupils during this survey? Probably out of school or so passionate, that they chose the other answers!
Q3: You and Sweet Home 3D, how did you meet? (251 answers)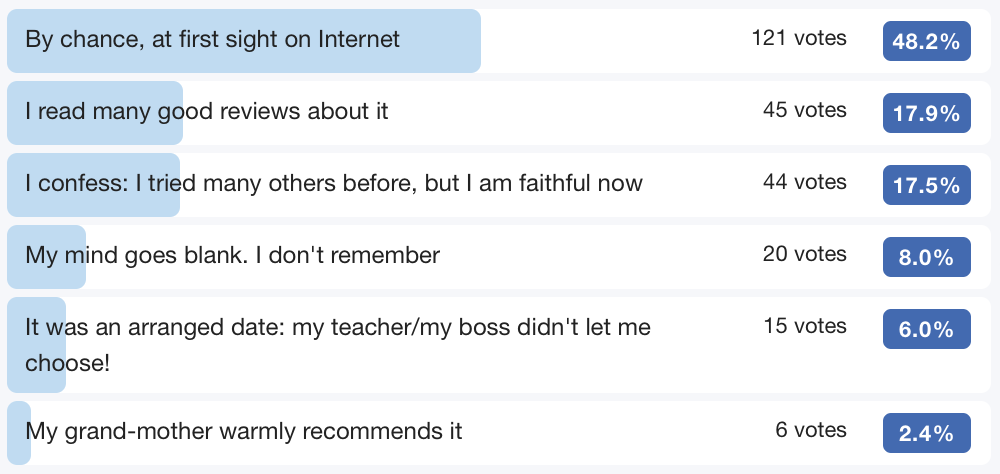 It's good to know that Sweet Home 3D seems well referenced on Internet! We're also proud to know that 17% of you tried some other software but prefer Sweet Home 3D!
Q4: For you, this is THE point (208 answers)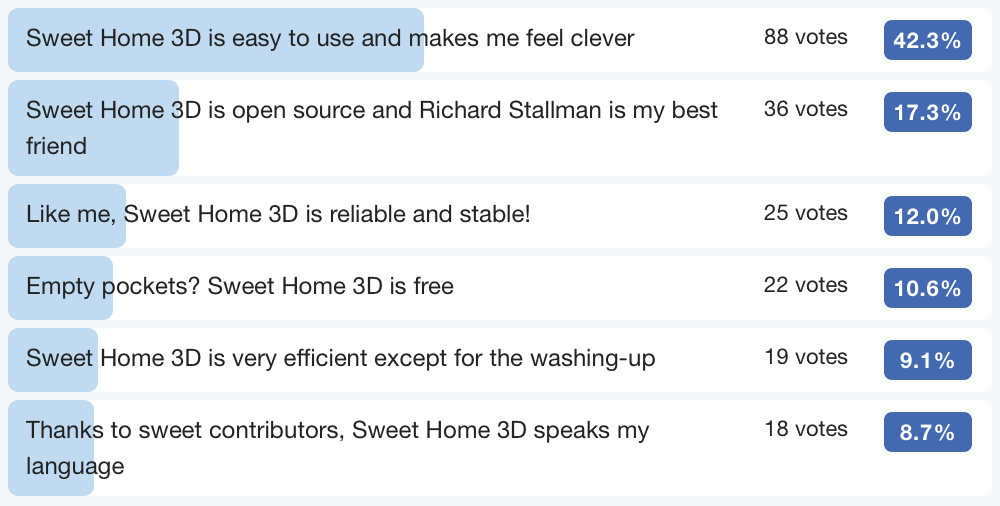 It is great to read that 42% appreciate the ease to use Sweet Home 3D! Pedagogicaly, "feeling clever" is the best way to practice and to learn. Happy also that 17% feel concerned by the fact that Sweet Home 3D is open source. Sorry for the 9% of its unability to do the washing-up but Sweet Home 3D will never be able to help you for this task!
Q5: This year, Sweet Home 3D was so lovely with... (179 answers)
Good results for the new furniture libraries, which is rather logical and consistent with the answers to the question 2. It is nice that 15% of you selected the new logo, as well as the support of HTML5/WebGL and... the community manager (thank you... it was half a joke... I am embarassed... Oh, you were kidding too?!).
Q6: August arrives in 2 days and... (158 answers)
You were all busy, this summer! It is hard to stay away from computers and Internet, isn't it?
Q7: If Sweet Home 3D was working on my tablet/smartphone... (146 answers)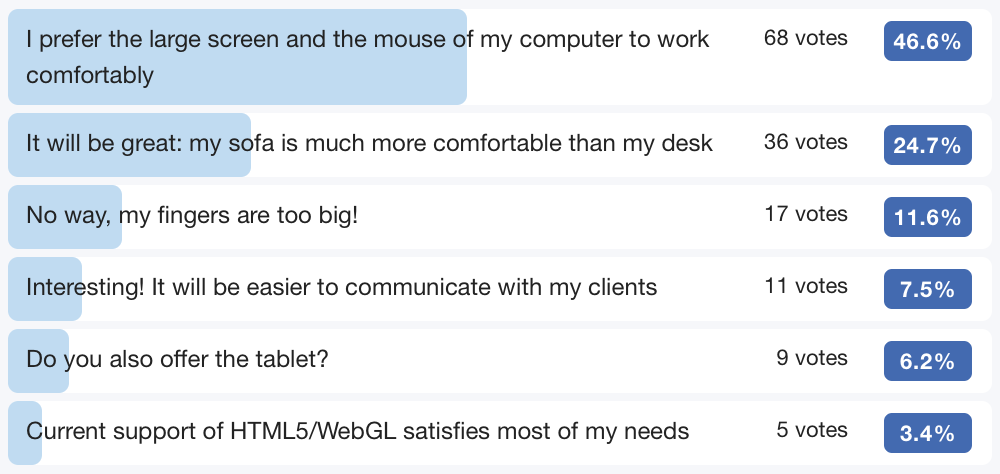 Even if most of you wisely work on computer to design properly, 36% of persons are interested or curious by using Sweet Home 3D on tablet/smartphone. It's encouraging to continue to port Sweet Home 3D under HTML5!
Q8: What do you do when you need some help? (129 answers)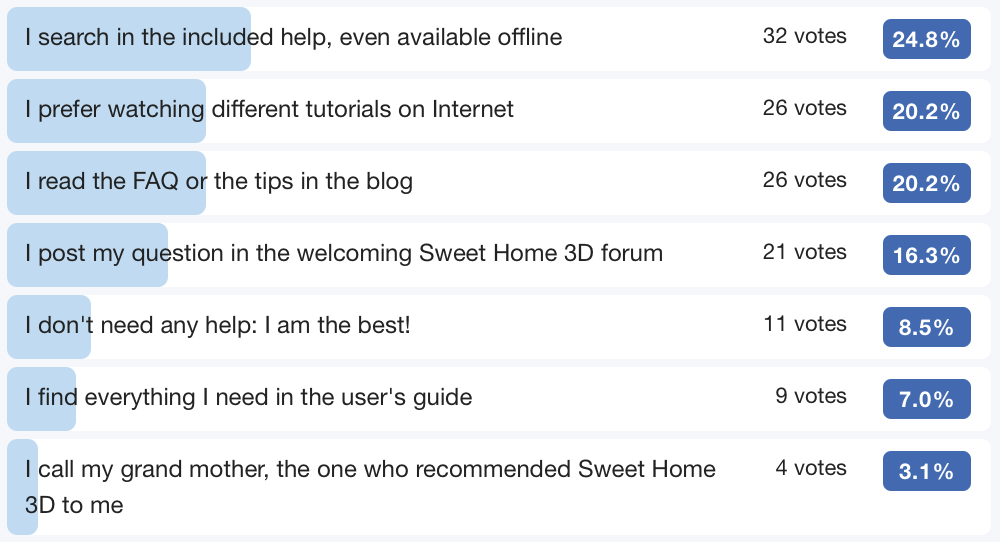 Everyone has his own way to find some help. You really are the boss! By the way, thanks to the faithfull community of the forum and the many tutorials contributors all over the world!
Q9: What do you dream of for the Sweet Home 3D future? (103 answers)

We might approach these attractive topics in the blog. Curiosity never killed the cat!
Q10: Sooner or later, you would love Sweet Home 3D to... (98 answers)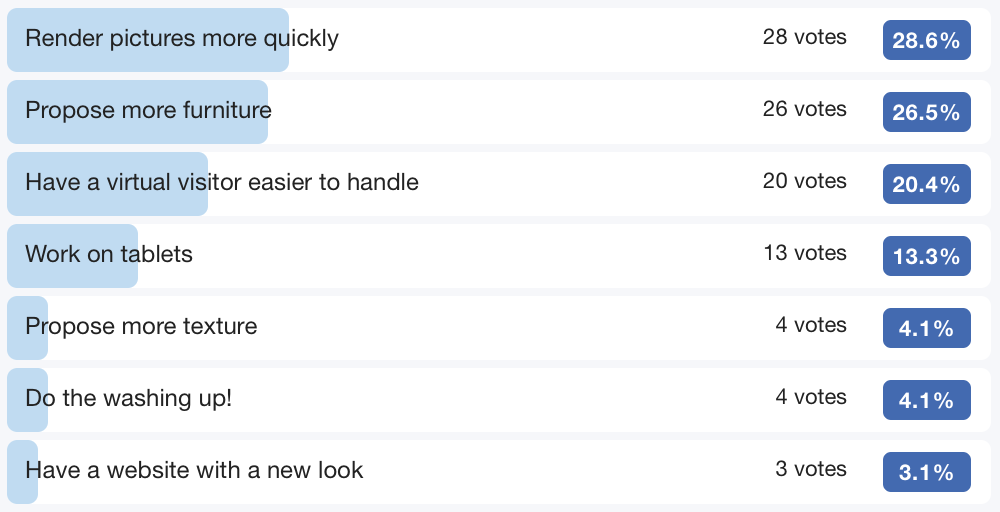 Sooner or later... For all of you... Small improvements or big operations. Stay tuned, we will try to address them.