In our last blog article, we were with teacher Delmas who shared his experience about his use of Sweet Home 3D at school. This time, let's play and talk about a Sweet Home 3D unexpected use with Nathan who asked for contributions on the forum, a few months ago, for a VR (Virtual Reality) game named "Klepto".
This game, still in development, is not very "politically correct": it is a burglary similator! But, never mind, it seems to be quite fun! And we are from time to time gamers ourselves.

We asked Nathan some questions (the images shown below come from Klepto but you'll be able to recognize some homes available in the Sweet Home 3D gallery):
- What is your company? Is it your first game?
Our game studio is called Meerkat Gaming. We are based in the Washington DC area in the United States. Klepto is our first major game, but we have experimented with other small projects such as Maze Roller and Tightrope VR. Tightrope VR was a VR Jam contest submission hosted by Oculus where participants had 3 weeks to create a small VR game. Tightrope VR was a finalist in this contest.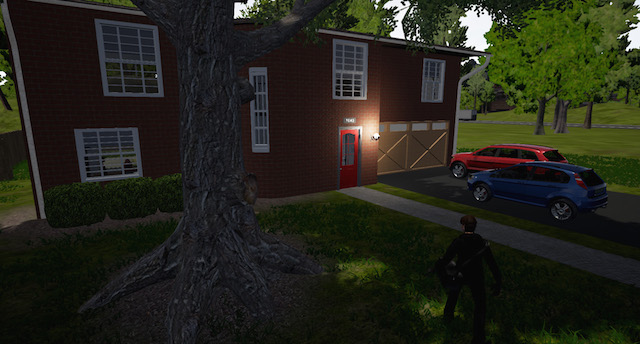 - What are the different steps to create a game? On which one are you for Klepto?
Generally speaking, when creating a game you first start with a simple idea, build a story and plan out what features and mechanics you would like to see included in the game. Once you have a plan and your development road map, it's best to start with lots of concept art to develop your look and style for the game. These can range from sketches to simple 3D models.
Then you have the big phase of primary development where you build your framework, models, animations and design your levels and start putting everything together. This is where we currently are with Klepto.
After that is your home stretch where many games will start a closed alpha/beta and have users start play testing to find bugs, get feedback on fun and playability and address any needed changes. Finally, the final step would be polishing and continued bug fixes to prepare for a release. All developers will have their own process but this is high level look on the track we've been taking with Klepto.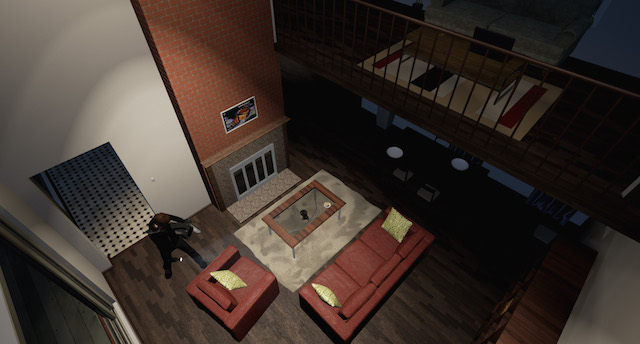 - Why did you choose Sweet Home 3D to built houses of your game? How did you reuse houses in the game?
We liked the ease and speed of being able to plan out and design our homes that we use in Klepto. The OBJ export was a huge factor in us deciding to use Sweet Home 3D. Without it we would have no way to take our designed and bring them into our game as a 3D object. Once we export the 3D object of the house we then bring it into our 3D modeling software to clean it up and make it game ready and apply our textures to give the house its final look.
- Is it important for you that Sweet Home 3D is available under the GNU General Public Licence?
Very important! This allows us to freely use Sweet Home 3D to create houses for our game. Whenever you can find a tool that does the job you're looking for and is fully accessible to everyone, it's a keeper.
Thank you, Nathan, and let us know when you will have finished Klepto.
If you too, you want to have your own house in a game, you can propose your file to Nathan. The thread is still opened. See also more information about Klepto game on Steam.