Sweet Home 3D 3.7 was released on October 25, 2012 with a few enhancements and bug fixes described in version history.
Importing 3D models files containing non ASCII letters
This new version fixes an annoying bug that could prevent from opening a SH3D file, after a user imported in it a 3D model file containing accentuated or non latin letters. I found a way to recover by program the buggy files that a few users sent me, but preferred to publish quickly a new version with the bug fix to ensure you won't get the same issue in your work.
Groups displayed as tree nodes in the furniture list
The furniture groups are now displayed in the furniture list as tree nodes that you can expand or collapse to be able to read the list of the pieces and subgroups they contain. The sublist of each expanded group or subgroup is sorted locally according to the column sort order you selected.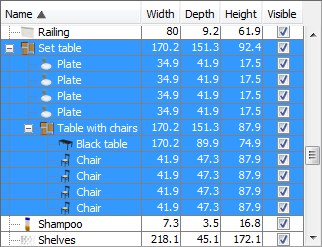 [Update: This feature miserably produces a regression under Linux (and only under that system) that prevents to move furniture in the plan. Thus, if you use groups under Linux, you should rather stay with the version 3.6 at this time or read bug report #347 for other solutions]
Antialiasing in the 3D view
Depending on whether your video card and its driver support it or not, the 3D view will now be displayed with antialiasing to get some smoother effect.
To help you see the difference, here are two screen captures of the same 3D view made with version 3.6 (without antialiasing) and version 3.7 (with antialiasing).
See how cabinet handles and straight lines look nicer!

Textures Library Editor
If you need to import many texture images for your designs, you'll enjoy the new Textures Library Editor (670 kB). Similarly to the Furniture Library Editor (5 MB) which is able to handle SH3F files, this small tool will help you to create and manage SH3T files, that you can import with the Furniture > Import textures library... menu item of Sweet Home 3D afterwards.
See this page for more information about this tool (and this one about the Furniture Library Editor).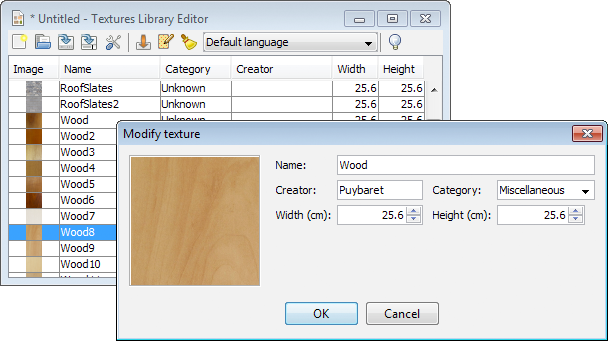 Windows 8 and Mac OS X support
I tried Sweet Home 3D under Windows 8 public beta and it worked without any problem.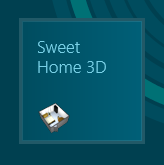 Miserably, running Sweet Home 3D under Mac OS X Lion (10.7) and Mountain Lion (10.8) is an other story depending on the version you use: Apple decided without previous notice to drop support for Java SE 6 in applets and Java Web Start from the Java update for OS X 2012-006 they released on October 16th, 2012. This implies that Sweet Home 3D Online and Java Web Start version can't work anymore under those systems, once you ran this update. Installing Oracle Java SE 7 on your computer won't change anything, because the Java 3D library used by Sweet Home 3D isn't compatible with Java 7 under Mac OS X yet.
[Update: Apple finally published a document explaining how to re-enable Java SE 6 plug-in and Web Start after installing Java update for OS X 2012-006. Not really user's friendly since it requires to type commands in Terminal, but at least it's a workable solution]
Bien programmer en Java 7
To end on a positive note, I'm proud to announce the publication of the 4th edition of my French book about Java. It's now called Bien programmer en Java 7 and is published by Editions Eyrolles. I sincerely hope you'll enjoy its reading.