UbuntuBirdy is a faithful contributor of the Sweet Home 3D forum, who helps people on several subjects and — guess what? — is a Ubuntu supporter (Ubuntu is an open source operating system).
Beside that, he develops a funny way of using Sweet Home 3D: designing boats! He regularly explains the different stages of his project in the thread Who would like to live in a houseboat? but we wanted to ask some more questions to which he kindly answered.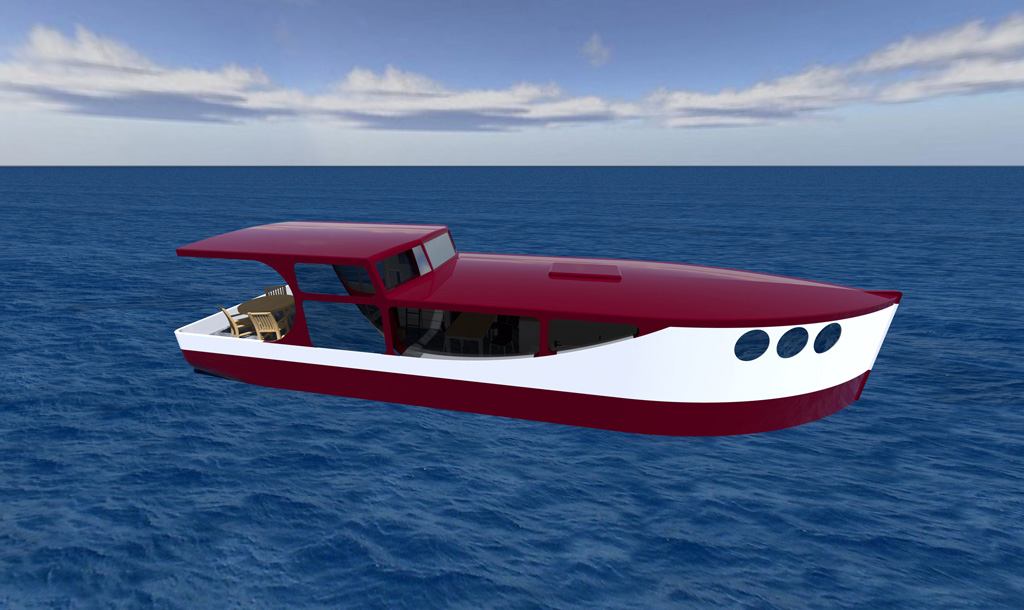 Backdecker1500 model
- When you started to use Sweet Home 3D, was it for your houseboats project or did it happen afterwards?
Indeed it was for one of my boats. It's a dream and hopefully I can realize it somewhen in the future. It was the time I did know how the boats should look like, I did know how long, how wide, how height it should be. But for planning the interior I had to visualize it. I tried a puristic solution with Excel, I tried a complicated solution with FreeCAD, but I noticed no one of this solution is what I'm looking for. So I clicked on the Firefox icon and started searching for a better software for this project. And guess what — I stumbled across Sweet Home 3D. This was by the end of 2016. And during the development of my dreamboat I learned to use Sweet Home 3D for my ideas and needs.
Meanwhile, I use Sweet Home 3D also for example to visualize rooms in my home if I want to buy new furniture (many furniture suppliers now offer OBJ files of their products for downloading). And also some real estate projects are in progress...
Outside and inside view of Cobo1215 model (4 people)
- What sort of software do you use to design the external shapes of the boats? Do you use Sweet Home 3D only for furnishing and decor? What is the whole process?
Almost all of the hulls of my boats and some superstructures are designed with FreeCAD. But they are only the outer shell of the boats. Where I have to create perpendicular walls or floors (rooms in Sweet Home 3D) I use the functions of Sweet Home 3D because this way I'm way more flexible for changing things and trying new ideas. And the whole process of furnishing and decor is done within Sweet Home 3D!
So when I have an idea for a new boat, I first open FreeCAD and I create the outer look of the boat including all the windows, doors, hatches and other openings in the outer shell of the boat. As soon as I'm satisfied with the result, I hollow out the whole boat. Then I split this shell into several parts (the hull, the different decks and the roof). All those parts I export to OBJ files and import them into Sweet Home 3D. Most of these parts get their own level in Sweet Home 3D so I can easily switch between the different decks. I now have to align the parts to each other and choose the right texture and/or the color. Then I paste all the windows (some of them I have to design with FreeCAD too), doors and other enclosures to seal the shell of the boat. If all these steps are done I can start creating the interior mostly by using the "try and error" method because with Sweet Home 3D this is very effective and interesting trying all my ideas, change and develop them with only a few clicks!
FreeCad structure of Nanoat model and reunited structures of Backdecker model
- Can you tell us about your web site Mini Binnä-Flottä (in Swiss German language) and how you show your boats in 3D on it?
This website is as simple as possible: using only some lines of HTML, CSS, JavaScript and the Sweet Home 3D JS Viewer offered on the Sweet Home 3D download page. Originally it was created to only use on a USB-stick to show my boats to my family and friends, but as requested in the houseboat thread, I uploaded it to my webspace and now you all can explore my boats in 3D. And to do this, no one needs to be a webdesigner, it is as easy as creating a home in Sweet Home 3D. Just download a preconfigured website (many free offers on the internet), adjust colors and/or backgrounds and insert the Sweet Home 3D JS Viewer and you're done. Ok, it helps a lot if you have basic knowledge in HTML, but it's not needed!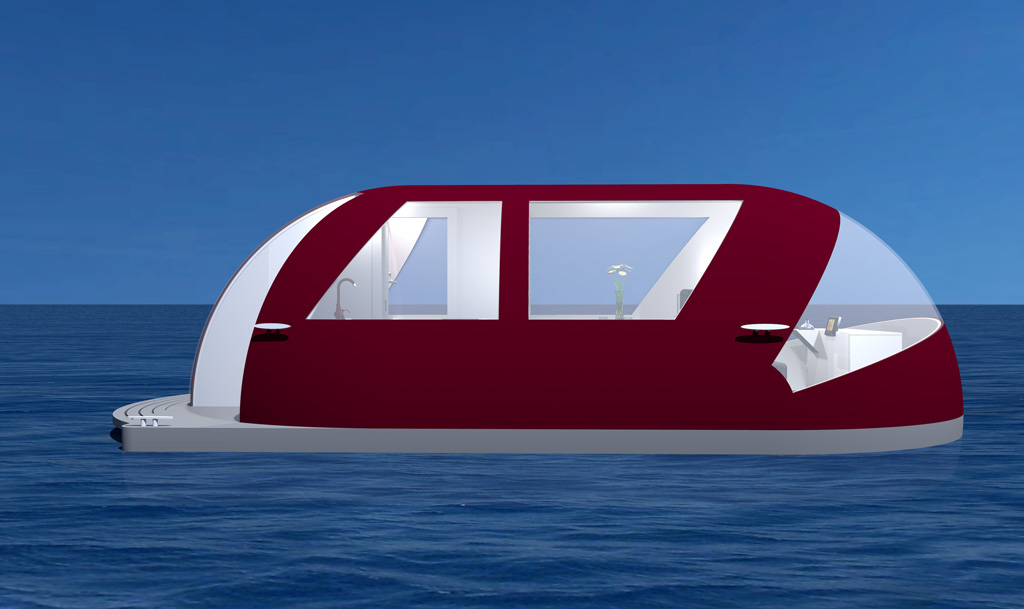 Minimoat model
- You have designed a lot of small rooms for these boats. What sort of advices would you give to anyone with the same surface constraints (on water but also on earth, or even in the air, who knows...)?
In the air? Hmmm... wait a minute, I have to try something... No no, first let's finish this interview. So furnishing small rooms in my opinion is the hardest part of this whole process. It is really difficult to make optimal use of the limited space, without it appearing overloaded or even the movement areas become too narrow. I do this the way that I first start as if I had all the space in the world and then reduce and optimize until I feel that the room is set up useful but I still feel comfortable in it. If one of these two criteria is not met, I have to either increase the room or use it for another purpose. Very important, switch your thinking from 2D to 3D! This is what Sweet Home 3D is made for! There are areas, for example over a bed where you don't need the full height of the room (most of the people I know are laying and not standing in their beds), so you can use this space for additional storage. Same situation over a bath tube or a desk. But as I said, do not overload the room, you become claustrophobic if you have barely enough room to breathe...
Living room and guestroom of Luxemotor model


Inside Microat model and its night view
- Do you plan to build one of these boats? Using which materials? Did you try to print them in 3D?
I'll try my best to build at least one of this boats somewhen in the future and my financial situation will dictate which one it will be... The larger ones are designed to be built from steel, the smaller ones for cost and weight reasons probably made of fiberglass composite.
I started a few attempts to 3D print one of the boats, but as they are designed in full scale, if i scale them down, the outer perimeters will be to small and the slicer software will not print them. And because I'm not willing to totally redesign a whole boat I have no 3D result so far. But I keep searching for a solution so stay tuned, I will present any 3D printed boat in the houseboat thread.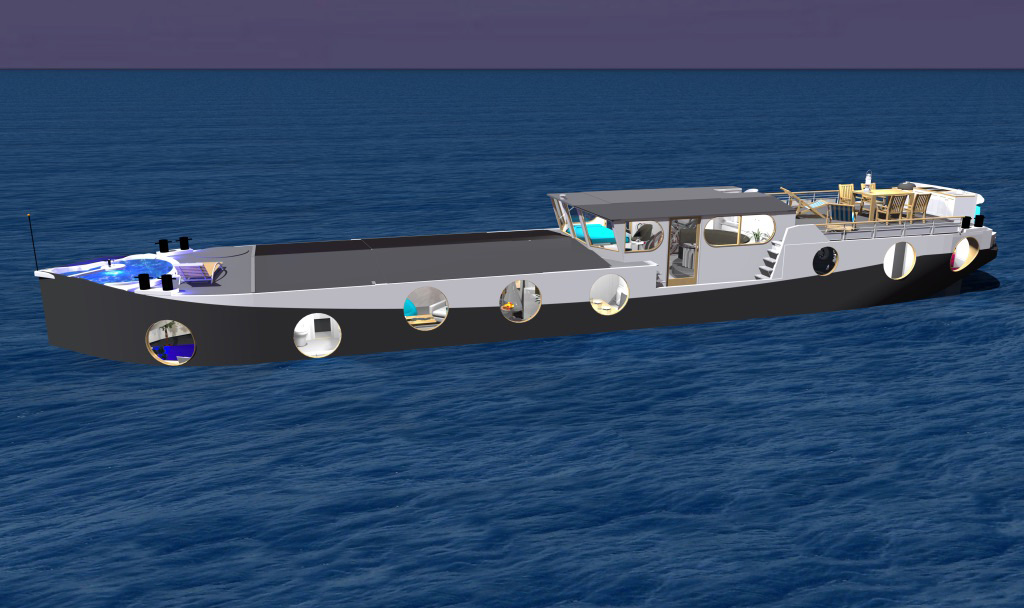 Luxemotor model equipped
- What is your favorite boat in your whole fleet?
It is and it will ever be the one this whole story started with the Luxemotor! It is by far the most detailed and advanced of my projects. I'm actually so far that I could start at any time with the realization. And I also have a pretty accurate estimate of the costs for this boat. And this is exactly where it gets difficult, because of course it is the most expensive of my boats... The plan is to someday no longer live on land in a real estate, but to live in this spacious and mobile floating home. And of course I will then explore France first with its endless waterways!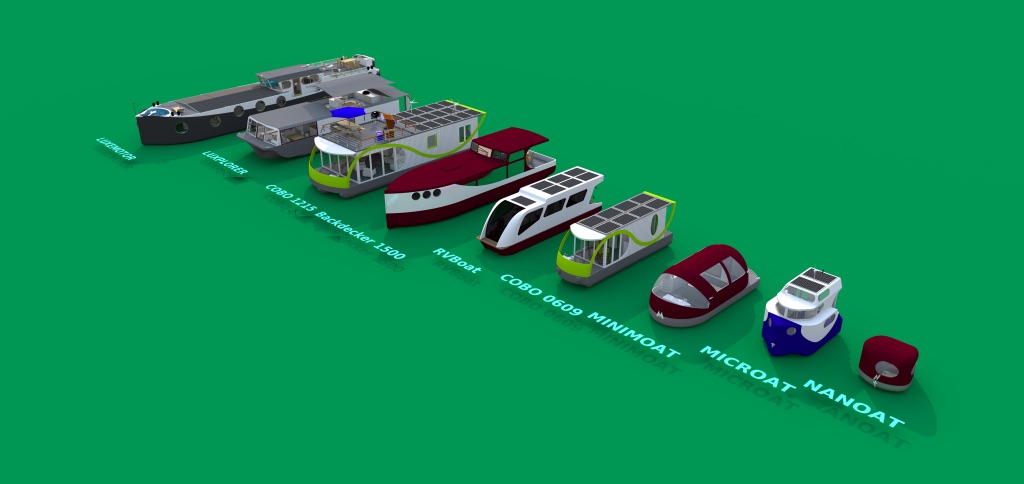 Whole fleet of UbuntuBirdy — other pictures can be found in this thread
I would like to thank you for your incredible engagement regarding Sweet Home 3D and the community! I know that this is not self-evident in this day and age, but I am sure projects like Sweet Home 3D have a great future!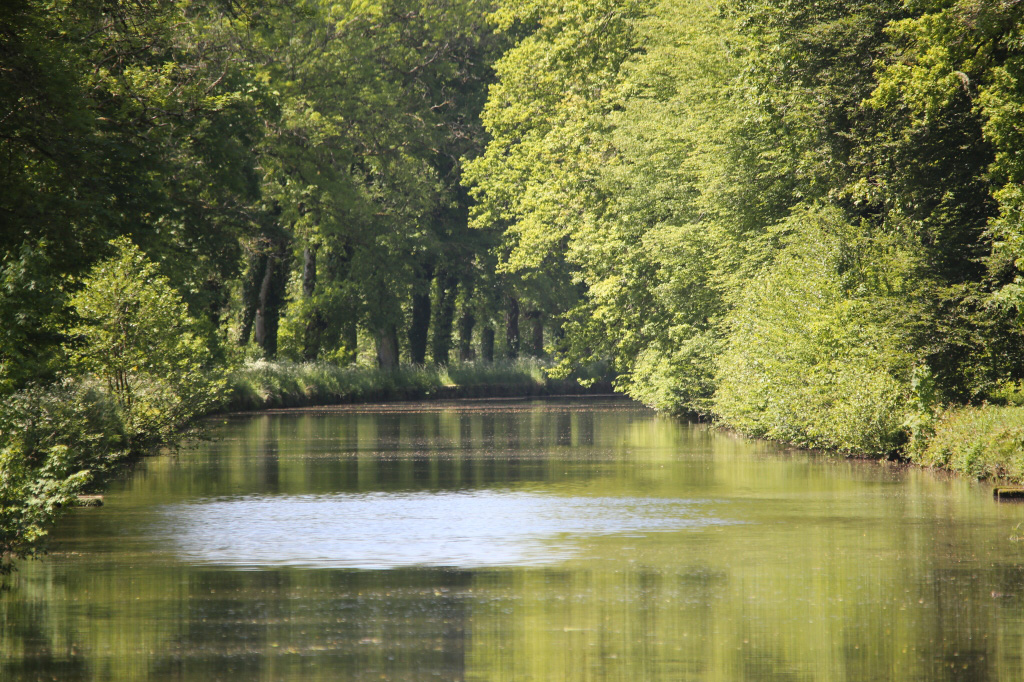 Canal des Vosges (coming soon with UbuntuBirdy houseboats!)
Many thanks to you, Pascal, and very good luck! Visit the whole fleet at his web site Mini Binnä-Flottä.