(version française) Bdfd has been a faithful contributor of the forum for a while, especially in its Gallery. Beside his architectural designs (from the little house to the fortified castle!), he has published since September 2040 Mars Two, a story about a squad of astronauts exploring Mars in 2040: 7 women, 7 men traveling during 910 days, including 550 on Mars.
Bdfd kindly answered to our questions.
- What do astronauts research?
Mars Two has three goals:
Settle permanently on Mars
 (read more about Mars size and atmosphere)
Find some water for life
Try to find some life traces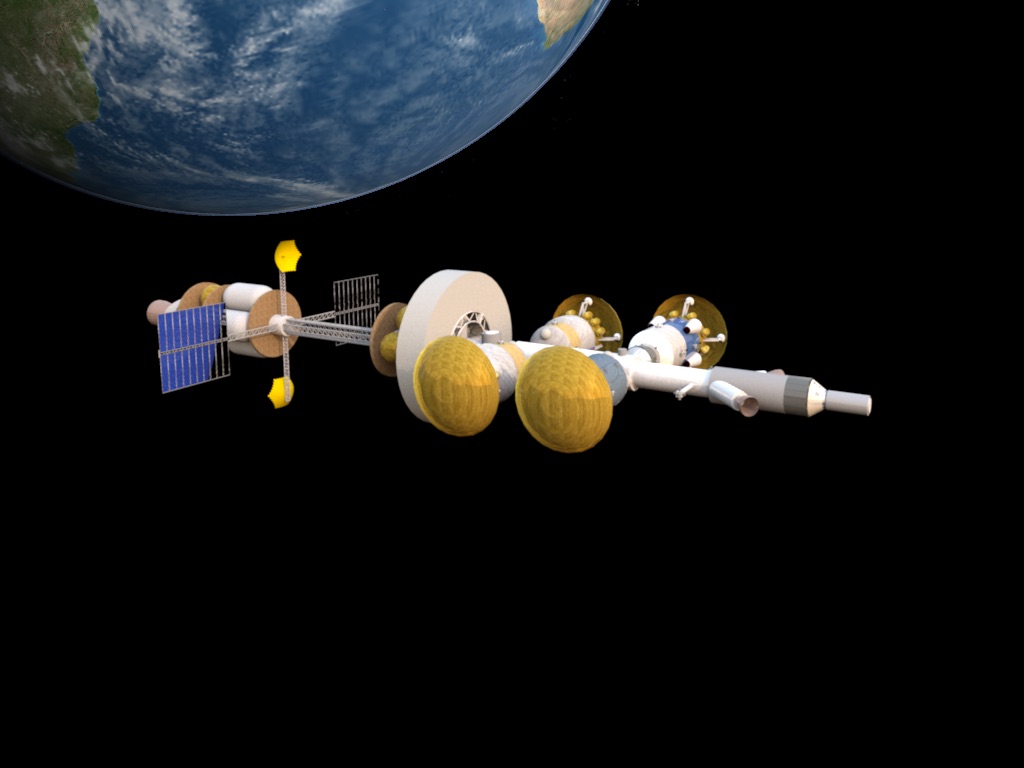 Day 1: Mars Two leaving Earth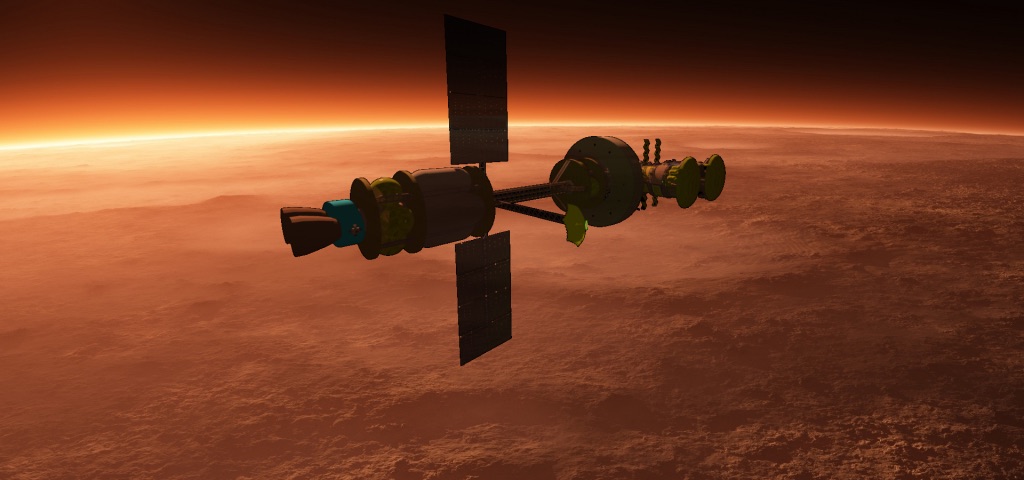 Day 180: The spaceship approaches Mars…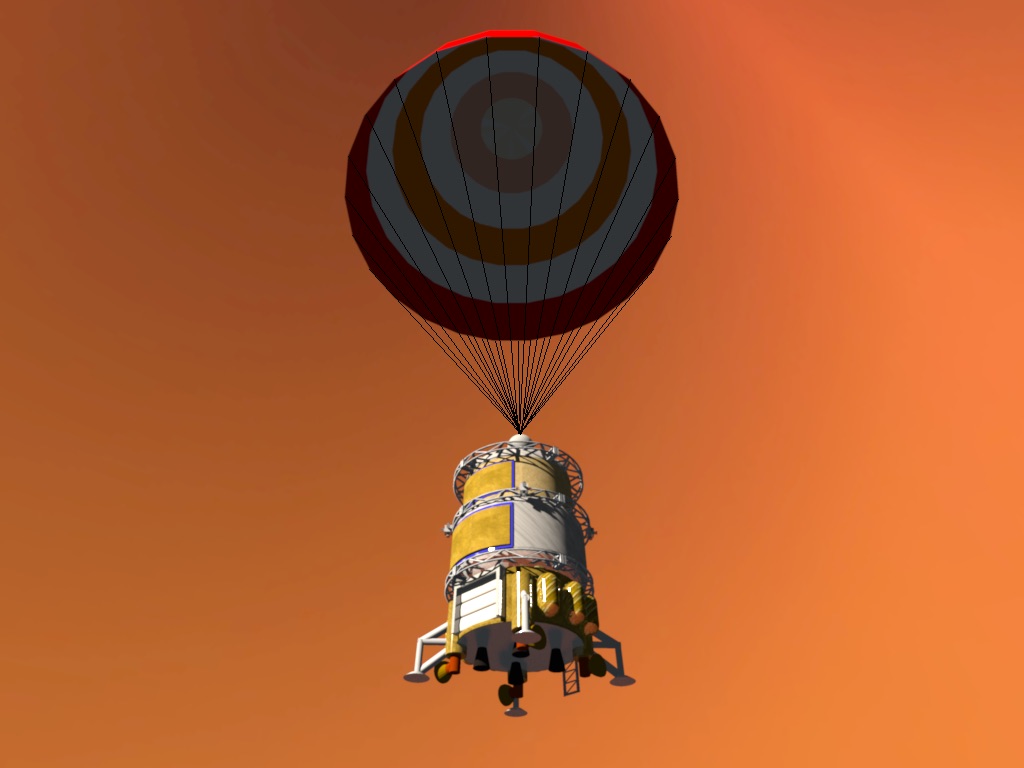 … where its various modules land (habitations, tools, vehicles…)

- Why did you call this expedition "Mars Two"?
I wrote a previous expedition called 2035: Towards Mars (small expedition that our faithful readers discovered in August 2016).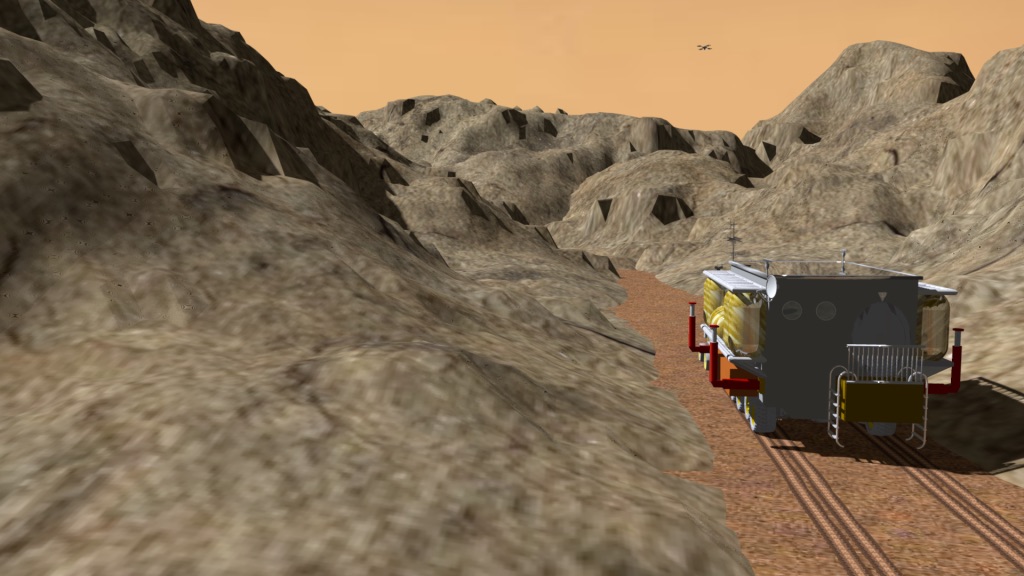 The expedition mission trying to find some water or life traces

The expedition journey
- When will Mars Two be back?
The team is now setting up the dome and some other equipment. Hermes and Mercury might come back to Earth while a second squad arrives with some new spaceships I am designing (more complex and realistic). I am thinking of introducing a volunteer option to come back to Earth or not.
At the third mission, new couples will arrive, for the next step "Mars Three".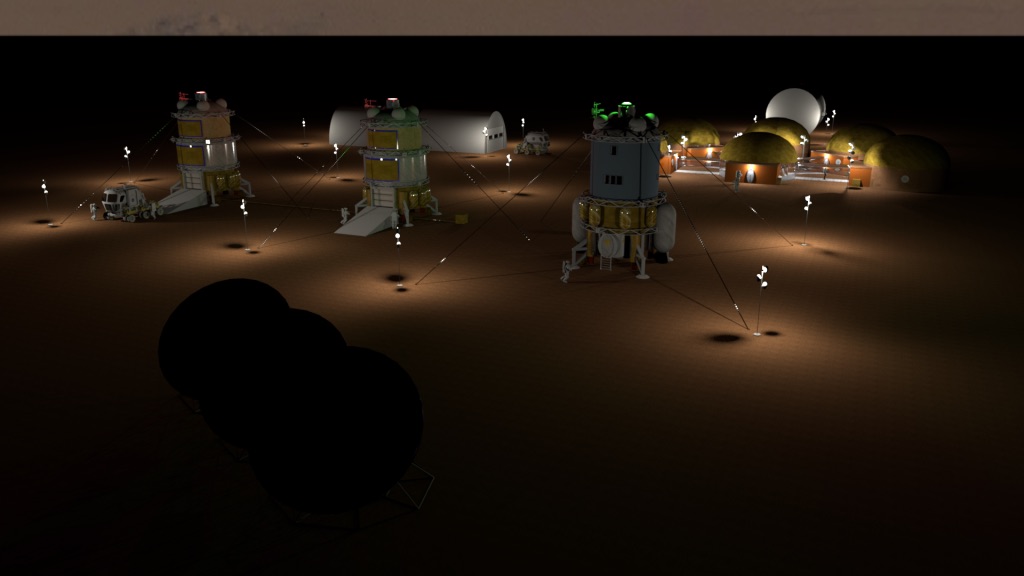 A part of the base camp, by night

- Are you a specialist of this kind of space research?
I am not a specialist but have been an enlightened amateur since I watched the first steps of Neil Armstrong on the Moon, live on TV. 
Later, I could visit Kennedy Space Center in Florida and watch the launch of Giotto in Guyana, in July 1985.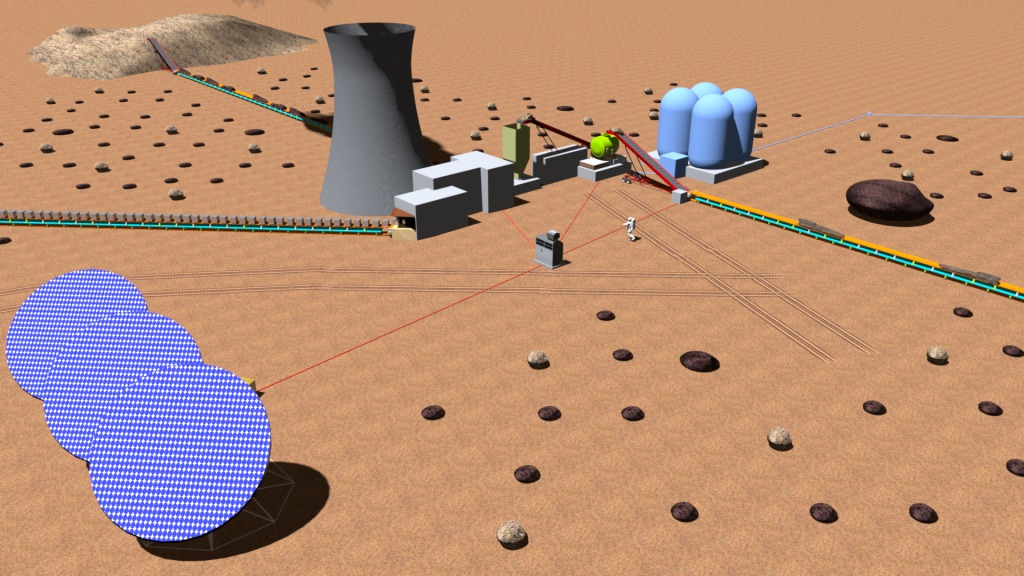 The tanks of water, the solar panels, the factory… built with a 3D printer

- Do you think it will be possible to visit Mars in 2040? What for?
2040, yes, I think it is possible. The time lapse is technically possible.
The goals will be exploration, scientific and international experience, before considering colonization… 
For tourism purpose, I think it is too far away, too long to go. But on the Moon, why not.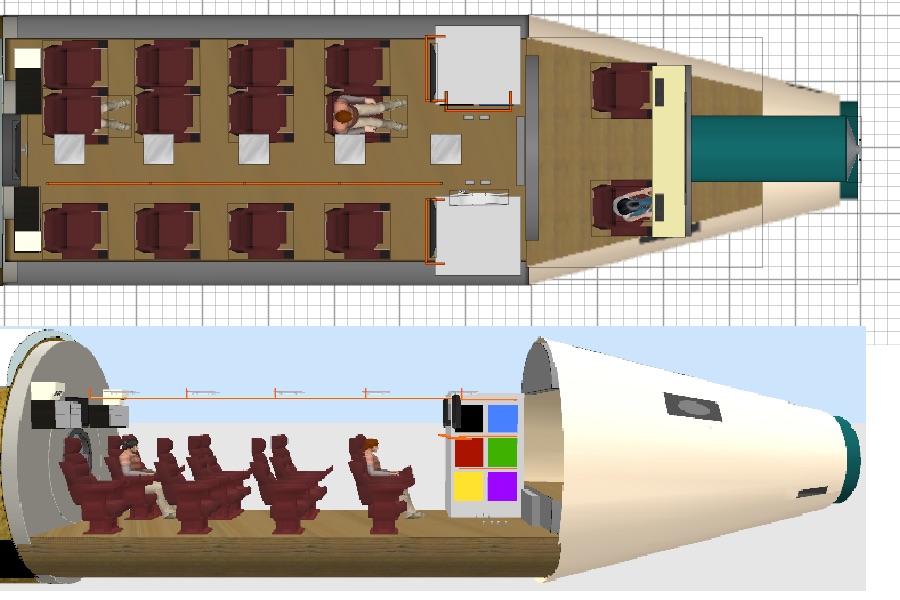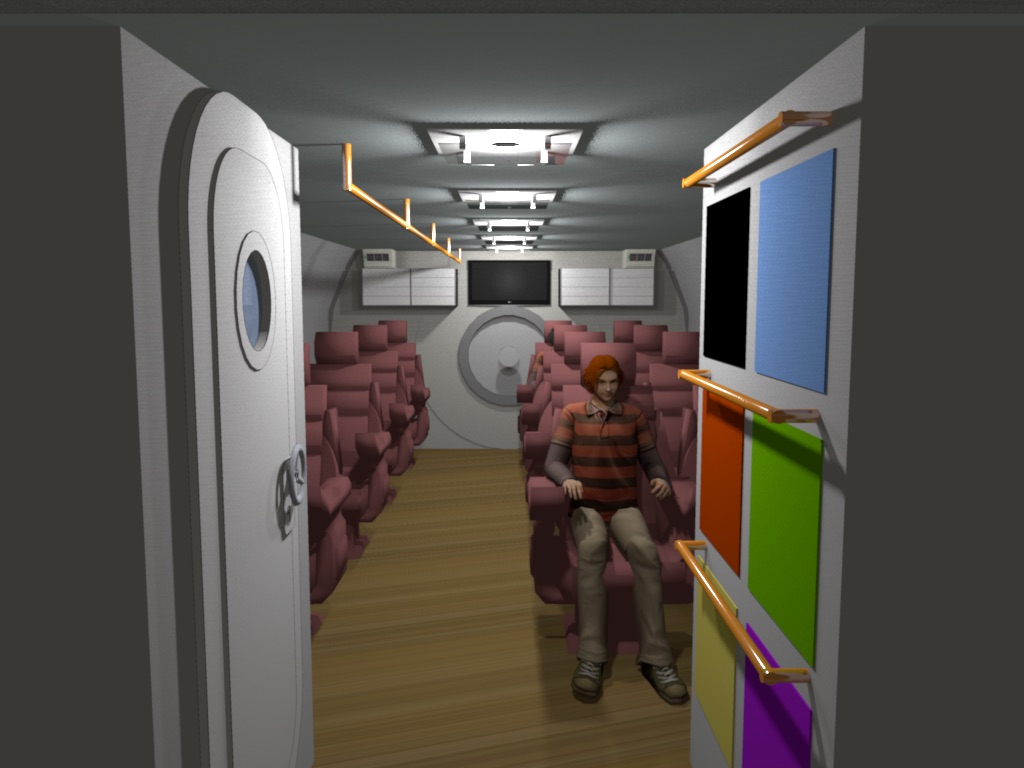 Hermes is still into orbit around Mars, with a reduced crew
- Is this saga has an other goal than entertain our Sweet Home 3D faithful readers? Are you tempted to write a fiction, some special adventure?
Oh no! My goal is to use all the features of Sweet Home 3D and to present the space field through this dreamy adventure.
I try to develop my ideas thanks to documentation (Internet, magazines…) and recent researches.
 Luckily, my PC and I are working fast.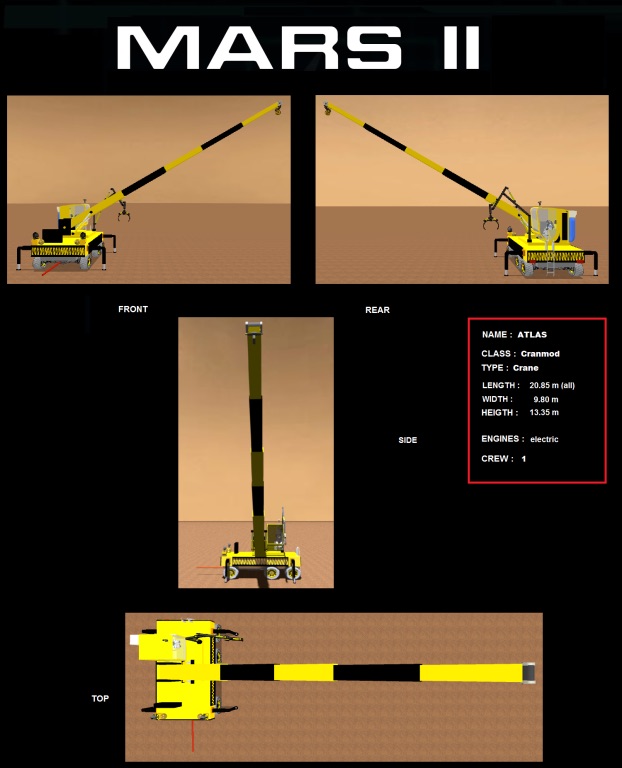 A crane technical file

- Do you design yourself the 3D models of astronauts, spaceships and tools you use in these images? And what about some of the textures?
Yes, simple or complex, I design 80% of my starships, with Sweet Home 3D et Anim8or, Autocad, Milkshape, Unwrap3D… I download the remaining models from other sites.
I work step by step like, for example, the ring of the Hermes spaceship: 
to be able to design this complex shape with Sweet Home 3D, I had to design it following these steps:
Imagine and adapt the central module with six entrances/ways out.
Design the ring with circular access pipes around, avoiding holes in walls, then export and import them to adjust their orientation.
Design front and back sides with their windows, then adjust their orientation.
Place the access ladders, the lights, the external handrails.
Assemble all the elements together (freezer, ring, garden).
For the textures, I found them on Internet and I adapt them.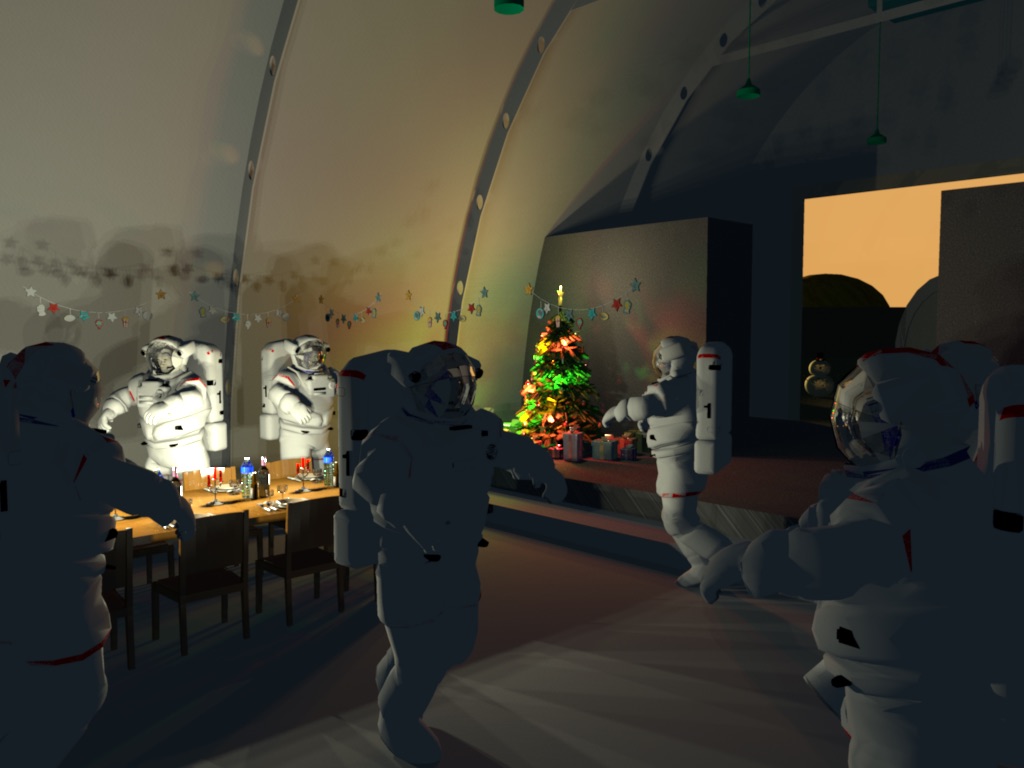 The Christmas party
- Are these models available for free under a license like CC-BY?
Yes, they are free and available on my own website CELESTIA ADDONS. They are free and available under CC-BY license. The site proposes futurist or existing models of the space adventure designed by some friends or me (with the same pseudo bdfd). They are not images, they are 3D models or planets systems with exo-planets (modeled with stars, planets, atmosphere).
Beside that, I currently develop the space capsule model Friendship 7 by John Glenn (recently died).
Thank you very much, bdfd. Long life to your courageous team!

Bdfd est un fidèle contributeur du forum de Sweet Home 3D, notamment dans la Galerie. En plus de ses conceptions architecturales (de la petite maison au château fort !), il publie depuis septembre dernier 2040 : Mars Two, la chronique d'une équipe d'astronautes explorant Mars en 2040 : 14 personnes, 7 femmes, 7 hommes (enfin la parité !) partis pour 910 jours de voyage, dont 550 sur Mars (cf. les détails sur la durée, et l'équipage).
Bdfd a eu la gentillesse de répondre à quelques unes de nos questions.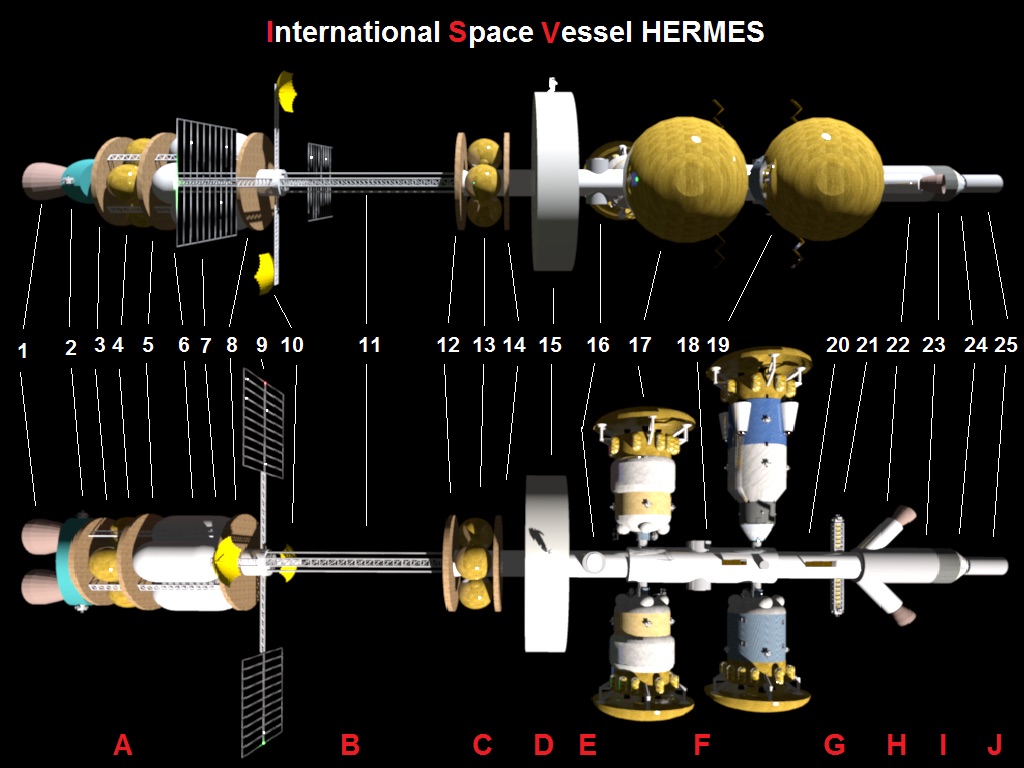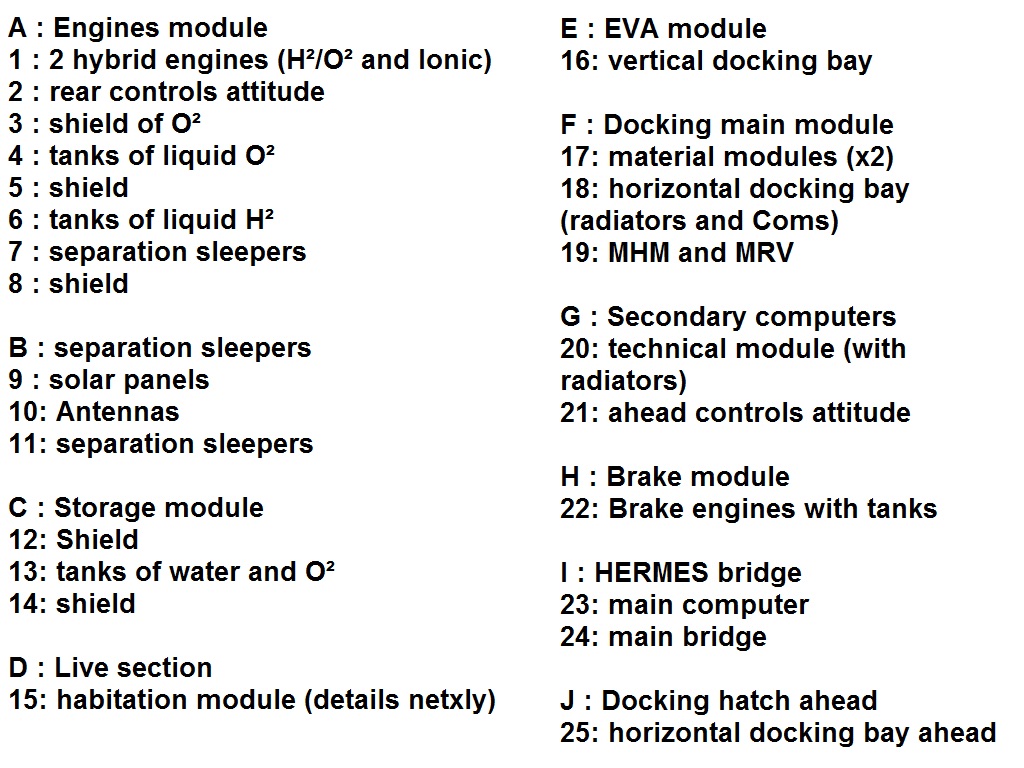 Le vaisseau spatial Mars Two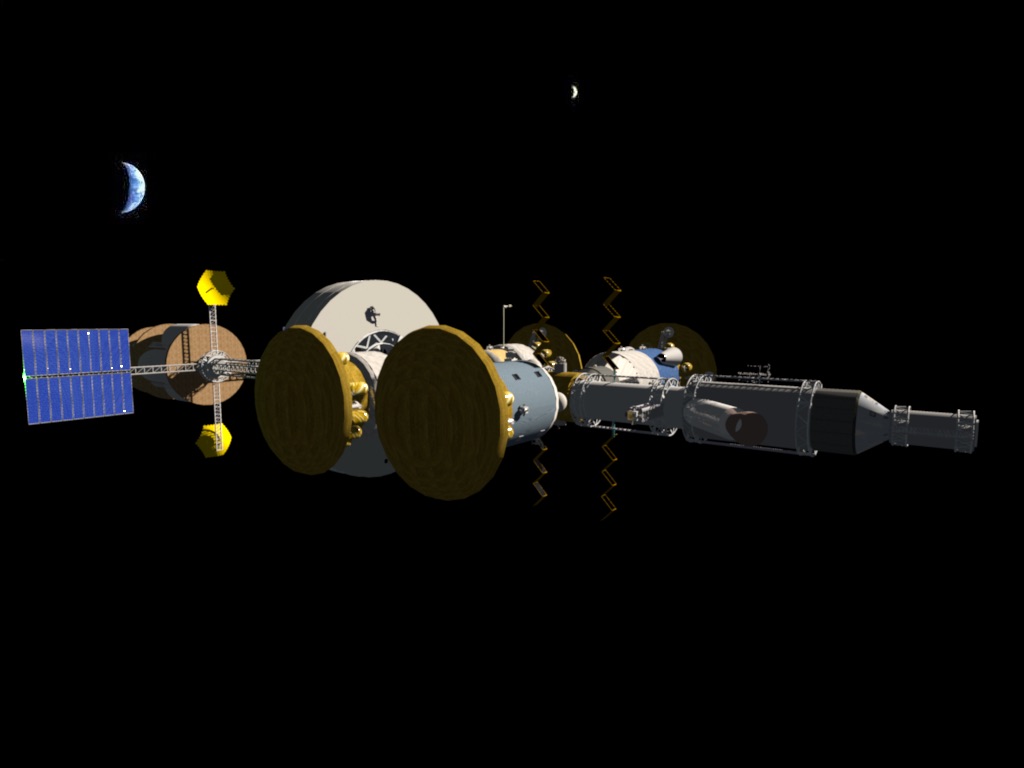 Jour 2 : Mars Two s'éloigne. Au loin la Terre et la Lune
- Qu'est-ce que recherche Mars Two?
Mars Two a trois objectifs :
Établir une colonie permanente
Rechercher de l'eau pour vivre
Rechercher des anciennes traces de vie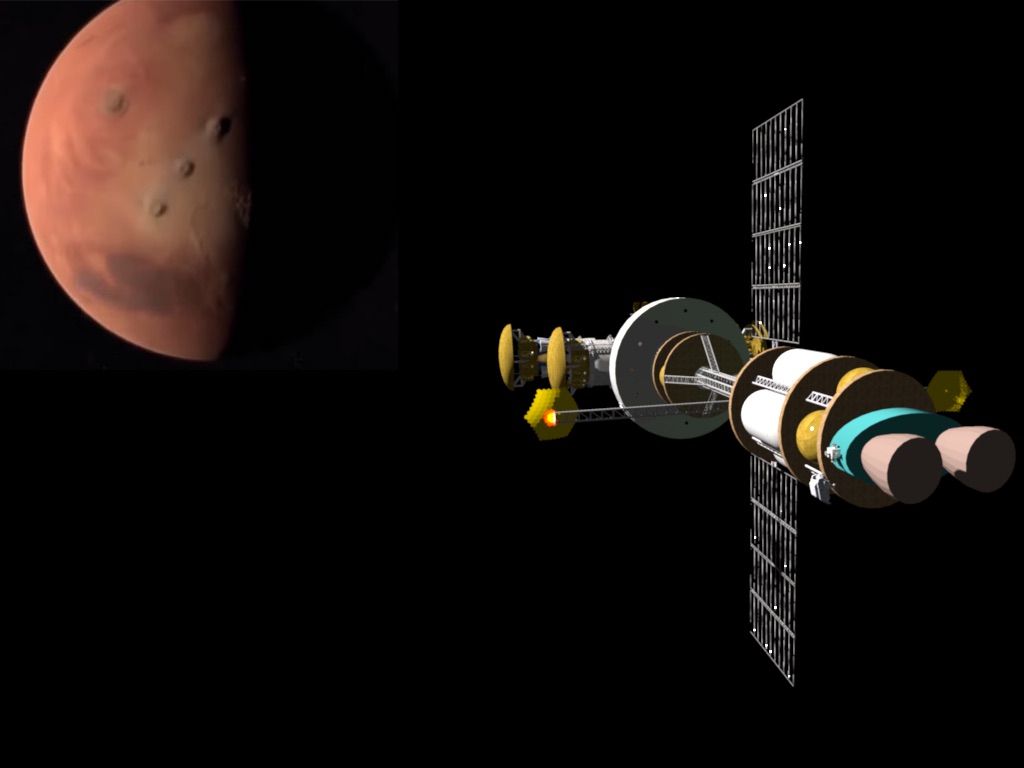 La station arrive en vue de Mars...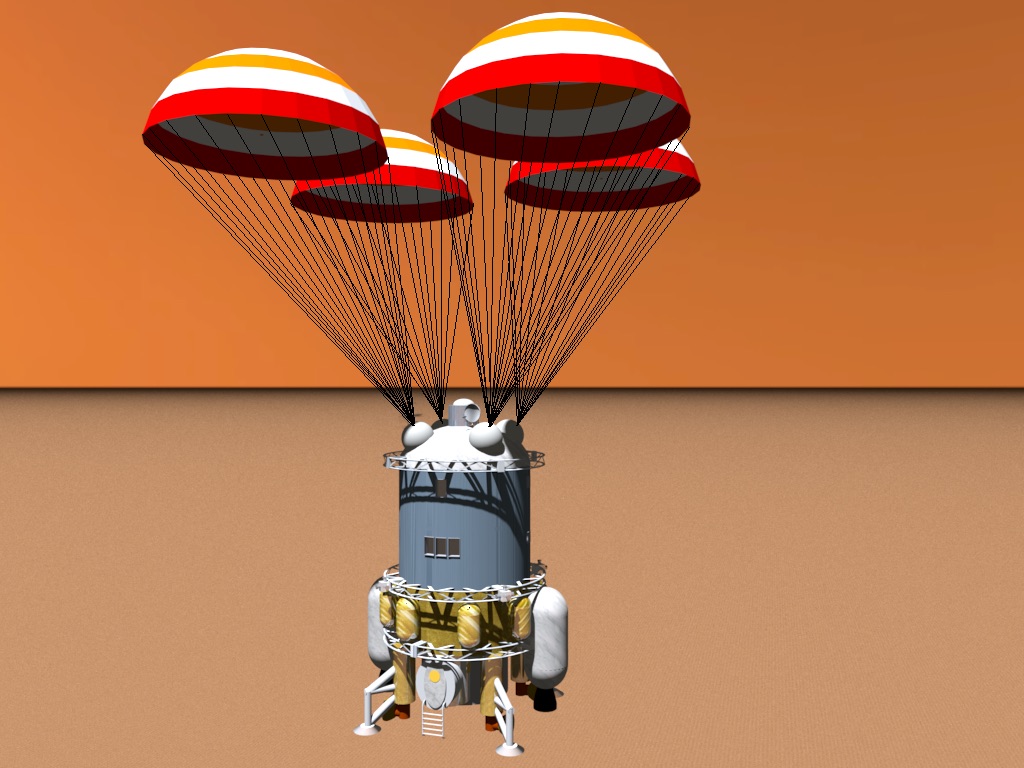 … et largue ses différents modules (habitations, matériels, véhicules...)
- Pourquoi la mission s'appelle "Mars Two" ?
Parce que la mission précédente 2035 : Towards Mars, c'était celle de 2035 (petite mission préparatoire, que nos lecteurs attentifs avaient pu apercevoir en aout 2016, note de la rédaction).

- Quand Mars Two va-t-il rentrer ?
Après avoir terminé l'installation du dôme (en cours) et de ses équipements, j'avais pensé refaire partir Hermes et Mercury vers la Terre, peu de temps après l'arrivée de la seconde équipe. Cela permettra d'introduire de nouveaux vaisseaux (plus complexes et plus réalistes) v3 déjà réalisés et en attente.
 Je pense introduire une notion de volontariat pour le retour ou non sur Terre. 
A partir de la troisième mission, des couples arriveront sur Mars, ce sera l'occasion de passer à l'étape suivante "Mars Three".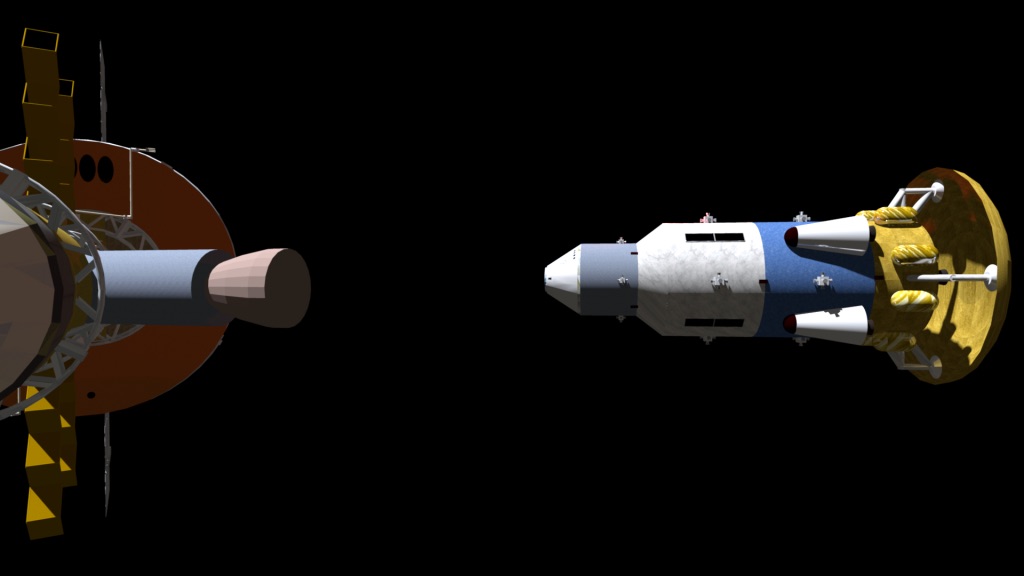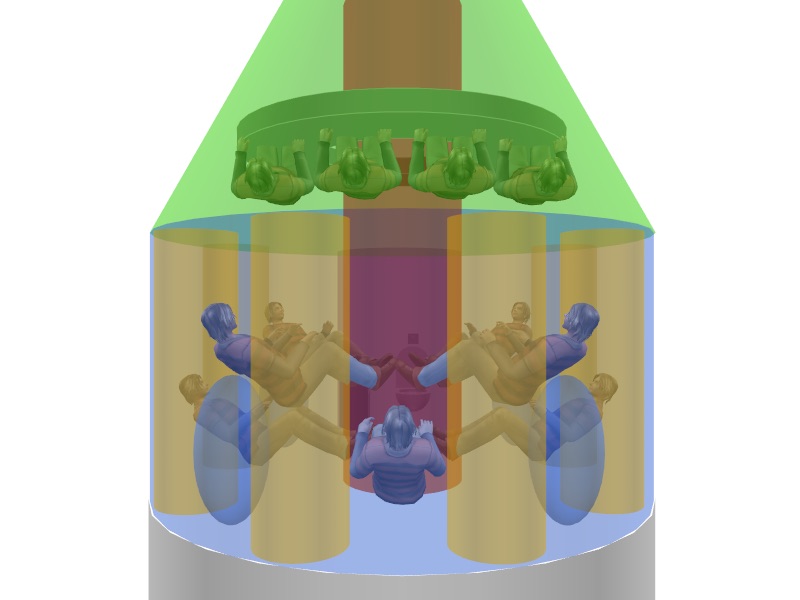 C'est au tour de l'équipe de descendre sur Mars

- Etes-vous un spécialiste de ce genre de recherches spatiales ?
Je ne suis pas un spécialiste mais juste un autodidacte éclairé depuis que j'ai assisté en direct à la télé aux premiers pas de Neil Armstrong sur la Lune ! Plus tard, j'ai pu visiter le Kennedy Space Center de la NASA en Floride et assister au lancement de Giotto en Guyane en juillet 1985...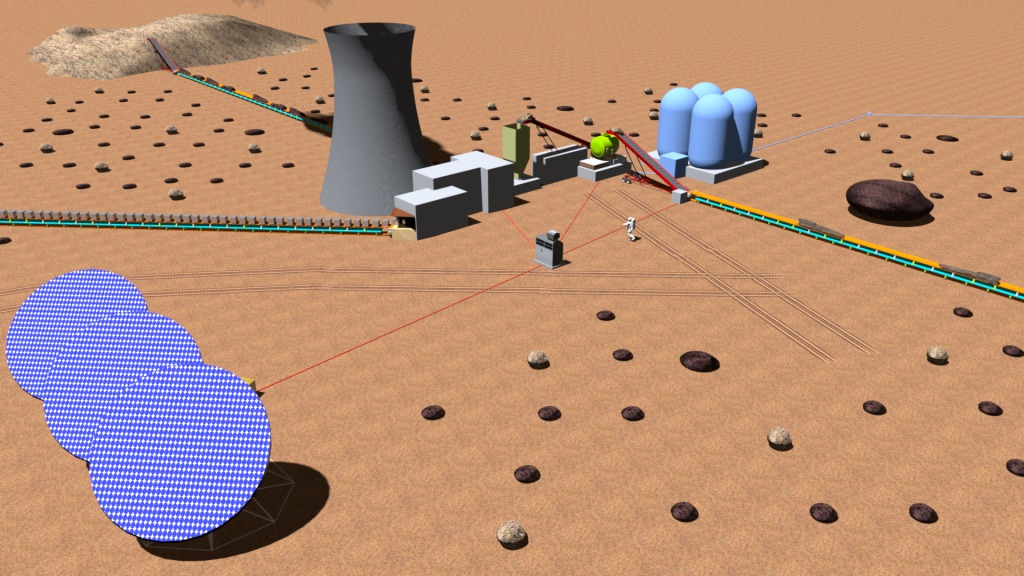 Les réservoirs, les panneaux solaires, l'usine... réalisés avec une imprimante 3D

- Pensez-vous que ce sera possible en 2040 d'aller sur Mars ? Et dans quel but ?
2040, oui c'est possible, le délai choisi semble techniquement faisable. 
Le but sera exploratoire, scientifique et international avant d'envisager une colonisation. 
Pour le tourisme, je ne pense pas car c'est trop long et trop loin... mais sur la lune, pourquoi pas.
- Est-ce que cette saga a d'autres buts que de passionner nos fidèles lecteurs du forum ? Etes-vous tenté d'écrire une fiction, une aventure spéciale ?
Oh non, mon but est d'utiliser au mieux Sweet Home 3D dans toutes ses possibilités et de faire découvrir le domaine spatial par le rêve de l'aventure.
 Quand j'ai une idée, j'essaie de la développer en m'appuyant sur des documents (revues, internet...) et les découvertes récentes.
 Heureusement, je travaille vite et mon PC aussi !
- Est-ce que c'est vous qui concevez les modèles 3D (astronautes, vaisseaux, outils...) que vous utilisez ? Et les textures ?
Oui, simples ou complexes, je conçois 80 % de mes vaisseaux moi-même avec Sweet Home 3D et Anim8or, Autocad, Milkshape, Unwrap3D... Et le reste, je l'importe depuis quelques sites annexes.
 J'avance par étape comme, par exemple, l'anneau d'habitation de vaisseau Hermes :
 Pour imaginer la complexité de cette réalisation avec Sweet Home 3D, j'ai découpé cette partie du projet en plusieurs phases :
Trouver et adapter le noeud central avec six entrées/sorties.
Concevoir l'anneau avec des tubes d'accès circulaires et éviter les "trous" dans les murs, les exporter et importer pour redresser le tout.
Concevoir les parois avant et arrière avec les hublots et redresser les deux.
Placer les échelles d'accès et les points de lumière ainsi que les "mains courantes" externes.
Assembler l'ensemble (freezer, anneau, jardin).
Pour les textures, j'en trouve sur le net et je les adapte moi-même.
- Est-ce que ces modèles sont libres ? J'ai cru comprendre que vous aviez un site d'images spatiales aussi
.
Oui, ces modèles libres sont diffusés par l'intermédiaire de mon site CELESTIA ADDONS. 
C'est gratuit et distribué sous licence CC-BY.
 Le site propose des modèles futuristes ou actuels de l'aventure spatiale, conçus par des copains et moi-même (avec le même pseudo bdfd). Ce ne sont pas des images mais des modèles 3D ou des systèmes planétaires avec des exo-planètes en 3D (modélisations stellaires, planétaires et atmospériques) grâce à Celestia.

En parallèle, je développe actuellement un modèle de la capsule Friendship 7 de John Glenn (décédé récemment).
Merci beaucoup, bdfd. Longue vie à votre valeureuse équipe !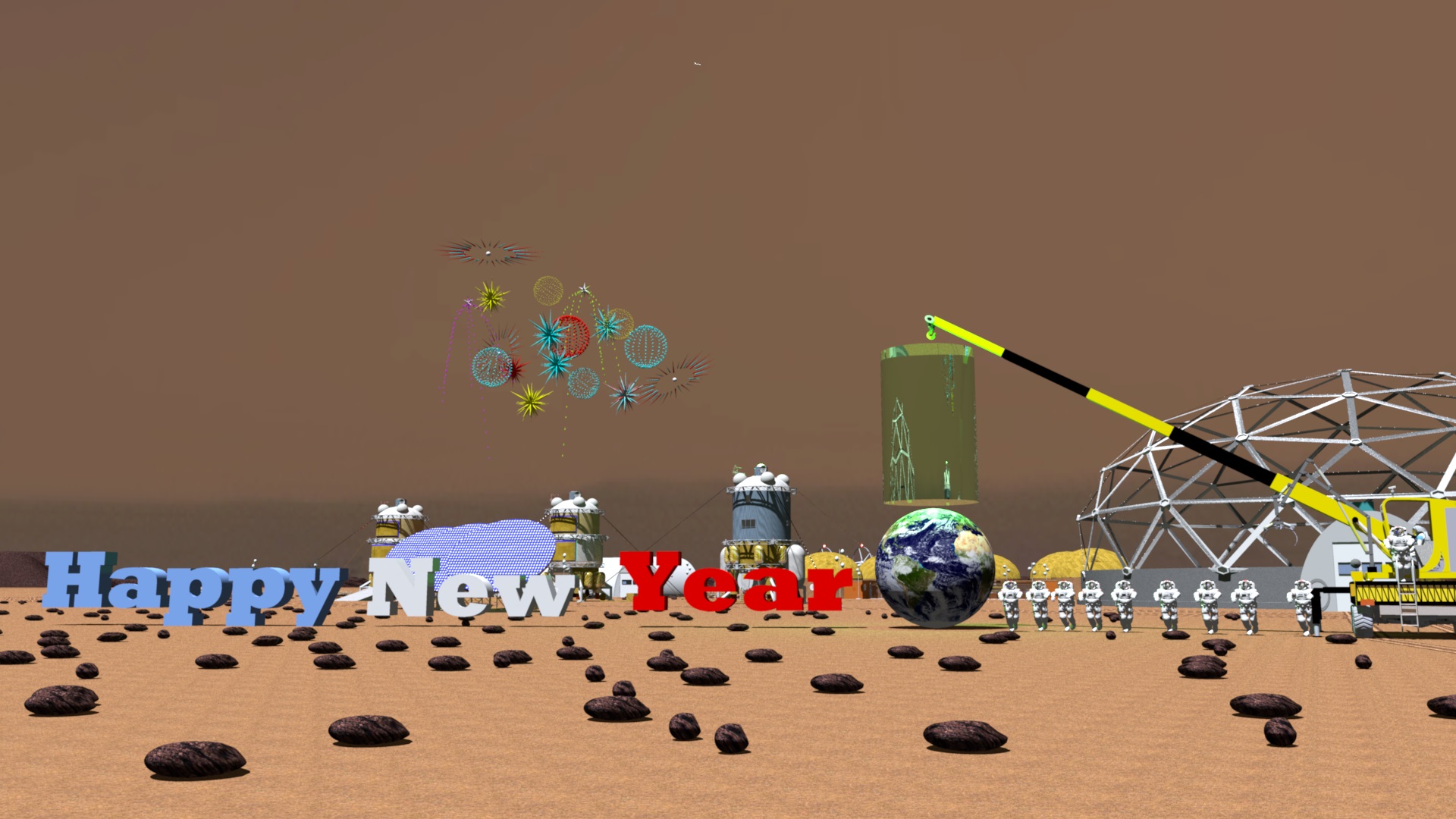 L'équipage au complet devant le camp de base (la coupole est en travaux).
Dans le ciel, un feu d'artifice dopé à l'oxygène
A voir aussi le musée des vaisseaux Thunderbirds (Sentinelles de l'air) que bdfd a réalisé pour Noël.