(version française) Today, Sweet Home 3D is 10 years old (the sweethome3d project was registered at SourceForge.net on November 7, 2005). Here are the answers Sweet Home 3D could have made to an interview if it was a person.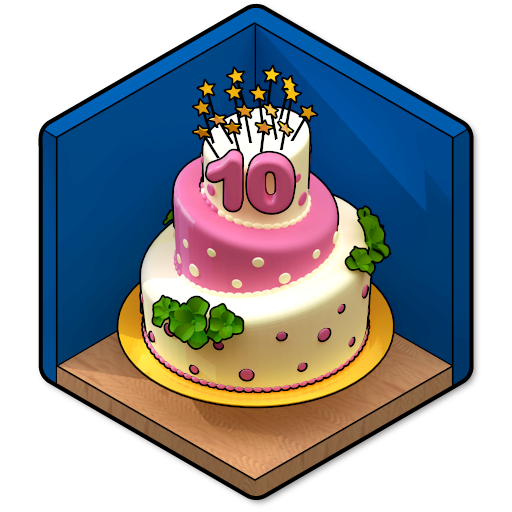 Happy birthday Sweet Home 3D!
- Does Sweet Home 3D have one or more brains?
Sweet Home 3D isn't an alien. He only has one brain and his mother tongue is French, but he's also able to communicate with the whole Earth with the help of Internet and Google translate. Thanks to its social space and its free spirit, he receives also many tips and help from other brains that benefit to everyone. Sometimes, Sweet Home 3D works more closely with other brains that make translations, 3D objects and even communication.
- When Sweet Home 3D was young, was he already designing houses?
He was building houses, even full cities... made of Lego! But he was told that there weren't available jobs in architecture anymore, so he decided he would design planes. But after he obtained his diplomas, this track didn't lead to anything either, so he took up working in programming, his other passion, and one day, he thought that it could be very handy to draw houses with a computer.
- Does Sweet Home 3D dream in 3 dimensions?
Sweet Home 3D dreams in 3D and in color, but during daytime, he organizes himself in 2D. It's easier to draw on a sheet of paper than assemble Legos.
- 10 years of Sweet Home 3D, is it fun every day?
Almost every day! Sweet Home 3D has a lot of fun in his work! He had to bear some solitary moments and lean years at the beginning, but nowadays, Sweet Home 3D has fun, knows he's well supported and can even live on his own! Let's hope it's going to last! :-)
- What are the other passions of Sweet Home 3D?
He loves music, which brightens life. He also loves to travel, it allows him to discover other cultures and the wonderful landscapes offered by the Earth. Hence, the third passion of Sweet Home 3D : photography, of course! Some examples of it can be found in Sweet Home 3D interiors around the world. He's very proud of it!
- What did Sweet Home 3D ask for his 10th birthday?
Sweet Home 3D asked to its users to show what they are able to create with it. He would also like to revamp his look, a step that should be reached soon. A new logo, a new web site and new illustrations would be nice, wouldn't it?
- What the birthday cake of Sweet Home 3D should consist of? Chocolate or raspberry?
It should be a chocolate cake, with a raspberry on its top, plenty of whipped cream, and... a surprise in the middle.
- A surprise? What surprise?
Sweet Home 3D dreams to embrace a wider audience. As he was worried that all smartphones and tablets users couldn't dream with him, he started to learn HTML5 / Javascript / WebGL, as showed in the special preview displayed when you click on the following button.

Aujourd'hui, Sweet Home 3D a 10 ans (le projet sweethome3d a été créé sur SourceForge.net le 7 novembre 2005). Voici les réponses que Sweet Home 3D aurait pu donner à une interview si c'était une personne.
- Sweet Home 3D a-t-il un ou plusieurs cerveaux ?
Sweet Home 3D n'est pas un extraterrestre. Il a un seul cerveau et sa langue natale est le français, mais il est aussi capable de communiquer avec la Terre entière à l'aide d'Internet et de Google translate. Grâce à son espace de convivialité et son esprit libre, il reçoit aussi beaucoup de conseils et d'aides d'autres cerveaux qui en font profiter tout le monde. Parfois, Sweet Home 3D travaille plus étroitement avec d'autres cerveaux qui font des traductions, des objets en 3D et même de la communication.
- Quand Sweet Home 3D était petit, est-ce qu'il concevait déjà des maisons ?
Même des villes entières... en Lego ! Mais on lui a dit que l'architecture c'était bouché, alors il a voulu construire des avions. Mais même bardé de diplômes, cette piste n'a rien donné non plus, alors il s'est tourné vers l'informatique, son autre passion, et un jour, il s'est dit que ça pourrait être bien pratique de dessiner des maisons avec un ordinateur.
- Sweet Home 3D rêve-t-il en 3 dimensions ?
Sweet Home 3D rêve en 3D et en couleur, mais pendant la journée, il s'organise en 2D. C'est plus pratique de dessiner sur une feuille que de sortir les Legos.
- 10 ans de Sweet Home 3D, c'est tous les jours la fête ?
Presque tous les jours ! Sweet Home 3D s'amuse beaucoup dans son travail ! Il y a eu quelques jours de solitude et de vaches maigres au début, mais aujourd'hui, Sweet Home 3D s'éclate, se sait bien entouré et a même les moyens de vivre de lui-même ! Pourvu que ça dure ! :-)
- Quelles sont les autres passions de Sweet Home 3D ?
Il aime bien la musique, ça égaye la vie. Les voyages aussi, ça permet de découvrir d'autres cultures et les magnifiques paysages de la Terre. D'où sa troisième passion : la photo, bien sûr, dont quelques exemples trônent dans les intérieurs Sweet Home 3D partout dans le monde. Fierté !
- Qu'est-ce qu'a demandé Sweet Home 3D pour ses 10 ans ?
Sweet Home 3D a demandé à ses utilisateurs de montrer ce qu'ils peuvent créer avec. Il aimerait faire peau neuve aussi, ce qui ne devrait plus tarder. Un nouveau logo, un nouveau site, des nouvelles illustrations, ça serait chouette, non ?
- Quel goût pour le gâteau d'anniversaire de Sweet Home 3D ? Chocolat ou framboise ?
Chocolat, avec une framboise dessus, plein de chantilly, et... une surprise au milieu.
- Une surprise ? Quelle surprise ?
Sweet Home 3D rêve de voir toujours plus grand. Et comme ça l'embêtait que tous les utilisateurs de smartphones et de tablettes ne puissent pas rêver avec lui, il s'est lancé dans la technologie HTML5 / Javascript / WebGL, comme le montre en avant-première l'exemple de logement affiché par le bouton suivant.
Thanks to Véronique and Matthieu for their help / Merci à Véronique et Matthieu pour leur aide