On the 6th of September 2013, the list of free 3D models supported by Sweet Home 3D was updated with 262 new models. Added to the default furniture list of the software, you have now 900 objects at your disposal to remodel your house!
Create lifeful scenes
Beside the integration of 3D models proposed by contributors during the past year, the main goal of this update was to provide new models that would help you to create more lifeful scenes, with various objects found in a house, but also more human characters. This led me to extract some small models proposed by Scopia in some of its bathroom and office scenes, but also to add some new items like appliances, pans, food, books, magazines and toys. Reallusion accepted also to contribute more human models in various positions, like sit or lying down characters.
The following image generated by Sweet Home 3D shows how these objects could be used in the various rooms found at home or at office.


(click on image to view a larger version)
Welcome to Blend Swap contributors
While integrating contributions, I was pleased to discover a new source of freely redistributable 3D models at Blend Swap. As this web site proposes only 3D models at Blender format, I had to convert them to the OBJ format supported by Sweet Home 3D. So, after spending a few days to select the models that have a reasonable size, scale them, convert them to OBJ format, update their materials and the direction of theirs normals when needed, I ended up with 140 new models for Sweet Home 3D.
70 models are available under Creative Commons Attribution 3.0 license (CC-BY) and the other 70 ones are part of the public domain (CC-0). I didn't select the few interesting models available under Creative Commons Attribution-Share Alike 3.0 license (CC-BY-SA), because I think this license is too restrictive in the case of Sweet Home 3D (it would oblige you to publish the sh3d files where you use such models under that license too).
The added models are very various: it goes from decorating objects and toys to more classical furniture like chairs, sofas, beds, shelves, tables and cabinets.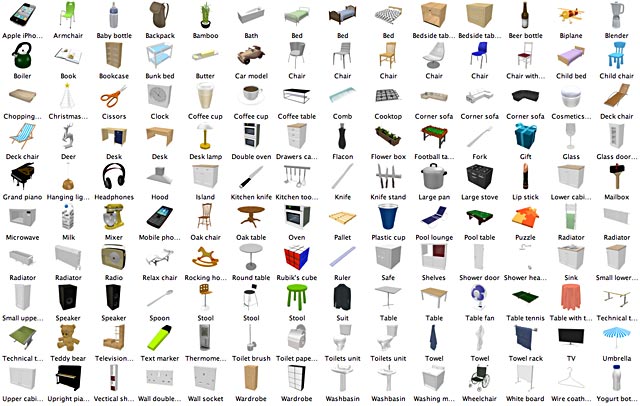 You'll find also in these libraries bigger furniture like a grand piano, a football table, a pool table or a table tennis to let you test the arrangement of your dreams.

Download new models and furniture libraries
These additional models are available at the new free 3D models page and in SH3F furniture libraries.
SH3F files can be downloaded with the following links:
These SH3F files are (partially or fully) translated in Bulgarian, Chinese (Simplified and Traditional), Czech, Dutch, English, Finnish, French, German, Greek, Hungarian, Italian, Japanese, Polish, Portuguese (Brazilian), Russian, Spanish, Swedish, Turkish and Vietnamese.
Note that the check updates system added to Sweet Home 3D 4.0 should warn you at program launch that the libraries you already installed were updated. The furniture catalog available in the Sweet Home 3D Online was also updated to let users have access to the 900 available models.
I'd like to address a big thank you to the 3D models designers and the contributors of Sweet Home 3D who translated all these furniture names.
A special thank also to Blender team whose OBJ exporter and importer are more and more efficient, features that were very useful for this update. Even if this 3D modeler software is hard to learn, I found it very efficient after a while, at least to edit 3D models.