Sweet Home 3D 3.0 was released on November 30, 2010.
It comes with a new splash screen...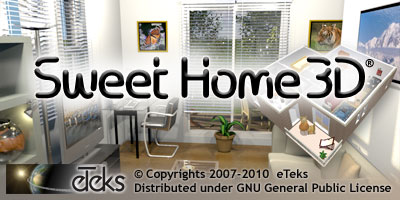 ...and many new features described in version history. Here are the most interesting features:
Round walls
If you keep pressed the ctrl key (or alt key under Mac OS X) while clicking at the end point of a wall, a round wall will be created and its extent angle will depend on the point where you'll click a third time. You may also change the arc extent of a round wall afterwards with the new Arc extent field in the Wall modification pane.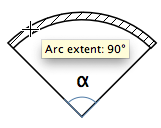 As the following image shows, it's possible to place windows or doors in the round walls but you'll have to change manually the angle and the depth of the window to build a correct hole in the wall.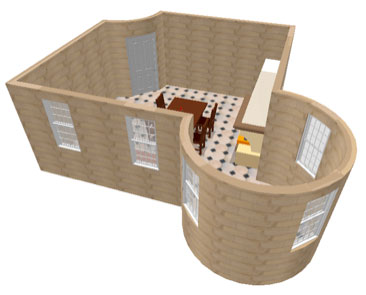 I suggest you to use first an invisible box to make a hole in the round wall then place the window in that hole.
Storing points of view
Do you like a particular point of view but still want to navigate in your home? Do you want to compare the view from two different places? You can now store 10 points of view with the new 3D view > Store point of view... menu item and then go back to one of them with the 3D view > Go to point of view menu that will be filled automatically.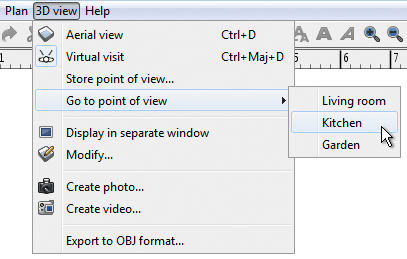 Compass
When you'll launch Sweet Home 3D version 3.0, you'll immediately notice the new compass rose displayed at the top left of the plan.

When selected, this compass rose can be moved, resized or rotated as you wish. If you want to hide or show it (homes created with previous versions of Sweet Home 3D won't show it), use the Visible in plan check box of the Compass modification pane displayed with a double-click on the compass rose or with the new Plan > Modify compass... menu item.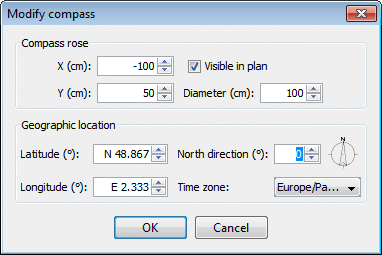 This new pane lets you edit compass rose attributes and also the geographic location and the time zone of the place where is the edited house. As there's no GPS in your computer (or if there's one, I didn't learn how to get its information by program yet), you'll have to check this information if you want to take profit of Sweet Home 3D ability to compute the sun location in the sky.
Photo rendering improvements
The features proposed by the Advanced rendering plug-in are now completely integrated to Sweet Home 3D itself. All the parameters in relation with home location were added to the Compass pane, and the ones that may vary more often from a photo to an other like Time / Date and Lens were added to the Photo and Video creation dialog when either two best quality settings are selected.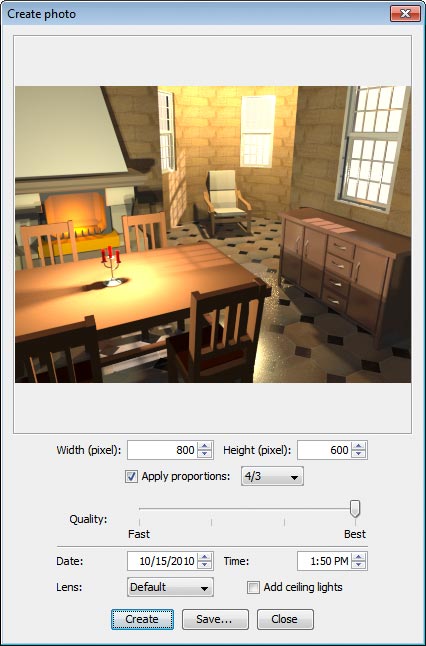 Lights computed at the middle of each ceiling are still the default lighting model, but you can turn them off and manage yourself where lights should be placed. Depending on the hour of the day and the geographic location of your home, sun rays will also illuminate the rooms of your home.
A set of 5 lights and 8 colored light sources were added to the default furniture catalog to let you manage lights out of the box, but you can also illuminate your home with almost all the lights defined in SH3F furniture files available for download.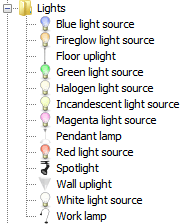 You may change the power of each light either with the Light power text field added to Furniture modification pane, or with the bottom left corner which has a different behavior for lights.

SunFlow rendering engine himself was improved and is now able to handle lights going through windows and transparent textures. You may also set whether surfaces should be matt or shiny for furniture, wall both sides, floors and ceilings. For those who followed the Advanced rendering plug-in adventure last summer, shiny surfaces are rendered with SunFlow shiny shader at the 3rd quality level, versus Uber shader at the 4th quality level.
And by the way, the computing of shadows on the floor of 3D models containing many vertices was fixed in the default rendering engine and the second quality photo rendering level works now correctly when you include trees in your layout.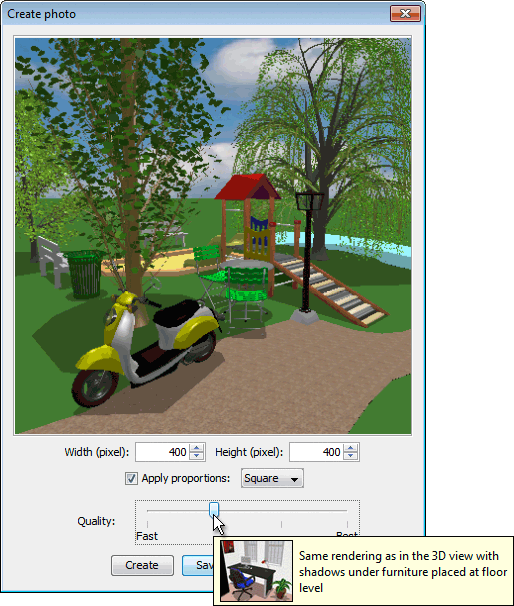 Automatic recovery after a crash
Despite all my efforts to remove bugs from Sweet Home 3D, it's still not perfect and sometimes the program simply crashes. If you're not used to regularly save your homes or simply forgot to do it, such a crash may ruin your good mood. Therefore I programmed a feature that will automatically recover edited files when you relaunch the program. Of course, there's no miracle and this system can work because Sweet Home 3D saves your homes data regularly in a private place. By default, the delay between two saving operations is 10 minutes but you can change this setting with the Save home data for recovery new field available in Preferences pane.

Portability
This release simplifies also the portability of Sweet Home 3D preferences, imported furniture and installed SH3F, SH3T, SH3P, SH3L files, when you need to transfer Sweet Home 3D configuration from a computer to an other. Now you just have to copy the content of a folder that depends on your operating system:
Under Windows Vista / 7, copy the content of C:\Users\user\AppData\Roaming\eTeks\Sweet Home 3D folder.
Under Windows XP and previous versions of Windows, copy the content of C:\Documents and Settings\user\Application Data\eTeks\Sweet Home 3D folder.
Under Mac OS X, copy the content of the Library/Application Support/eTeks/Sweet Home 3D subfolder of your user folder.
Under Linux, copy the content of the .eteks/sweethome3d subfolder of your user folder.
The transferred files are portable across operating systems, and you just have to respect their default location. Otherwise, you'll have to update the value of the new com.eteks.sweethome3d.preferencesFolder and com.eteks.sweethome3d.applicationFolders system properties which should more difficult, if you're not a programmer.
Finally, many thanks to Frédéric Mantegazza, Hans Dirkse, db4tech and other contributors who helped me to develop and test these new features. A special thank also to Christopher Kulla, for his help to improve his SunFlow rendering engine, and to the new translators Lucas Germano, Pawel "Bizkit" Popanda and Florian Haag who joined the team.