Sweet Home 3D 2.6 was released on August 23, 2010 with a few bug fixes described in version history.
Superimposed doors and windows
As seen in the following image, this version is now able to compute correctly holes made in a wall by doors and windows superimposed on top of each other.
Now, users won't have to use various hacks found time after time to achieve the same thing.
Better Collada/DAE support - step 2
Users have adopted very quickly the ability to import files at Collada format, and thanks to their report, a few more bugs were fixed, mainly to support the DAE files exported by other 3D tools.
New features in Advanced rendering plug-in 1.6
Users interested by the Advanced rendering plug-in should upgrade to the version 1.6. It fixes a bug that stopped rendering 3D models with too large texture coordinates. It brings also performance enhancements and new features as shown at the bottom of this screen capture: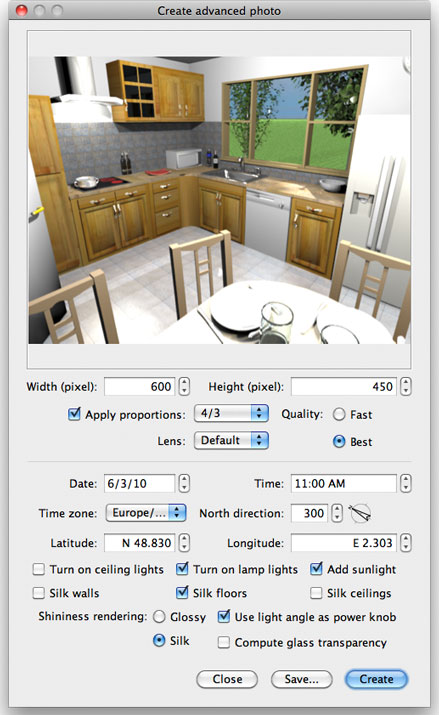 You can now:
Choose how shiny surfaces should be rendered, either with a glossy effect or with silk to glossy effect.
Use light bulb angles as a power knob to change the power they emit (this feature requires you use light bulbs available in the updated basicLights.sh3f).
Compute glass transparency to let the light goes through furniture glass panes.
These new features and performance enhancements required a lot of testing to get good results, and I would like to thank db4tech for all the time he spent to help me test them.
Don't hesitate to publish the images you created with this plug-in in forum's gallery.
Statistics
Finally I'm happy to report that on SourceForge.net, Sweet Home 3D is now in the All-time top 100 downloads and almost the same day, program reached 5 million downloads!
Not bad for a program that will celebrate soon the 3rd birthday of its first version!
Thank you again for your support.