AeowynFraser
Advanced Member


USA
Joined: Oct 8, 2014
Post Count: 356
Status: Offline
---
I've gotten a few more pictures done of this house. Not easy with it being over 90MB in size now (I've been downloading files from 3DWarehouse.com which can be rather large files themselves).


The laundry room looking toward the door to the bathroom, taken from the hallway door. On the left is the closet and cabinet space for cleaning supplies as well as a counter for folding laundry. On the right is the water heater and HVAC for the whole house.



Taken from the hallway on Level 1 looking down the stairs. On the left the door to the small office is visible. On the left the entertainment center to the loft space.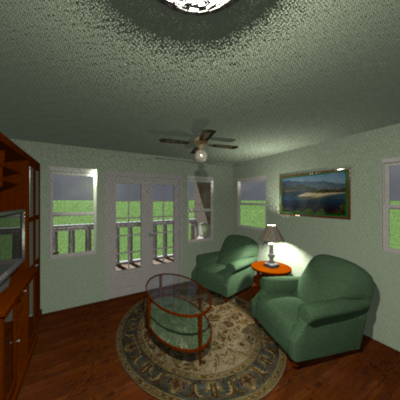 The loft space decorated as a sitting area/TV room. Here's the entrance to the tiny balcony visible from the front aerial view previously posted. Disclaimer: I have not updated the decor on the balcony yet.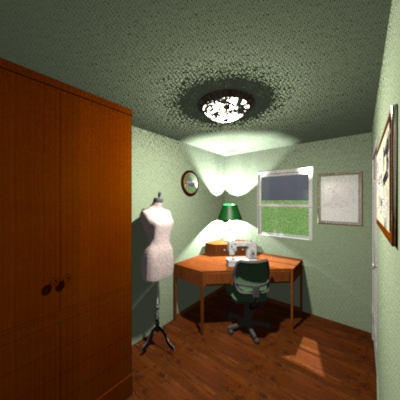 The small office taken from the door to the hallway. Just like most (if not all) of my other home designs, I've got office space decorated as a sewing room. On the left I'm using this cabinet for sewing pattern and sewing notion storage. On the right is a door to a small storage closet, which in this case I could use as fabric storage.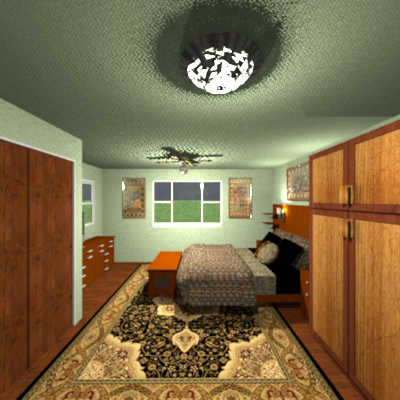 The master bedroom taken from the balcony doors. Only one set of the closet doors is visible on the left. The door to the hallway is just out of view on the right. I was inspired to decorate this room in a very Indian theme when I found the picture I'm using as the rug's texture. I think I might have gotten kind of carried away with that...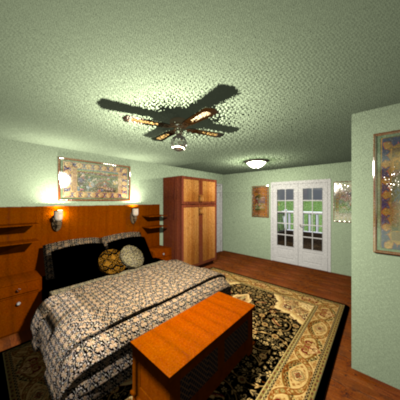 Another picture of the master bedroom, taken from the corner near the dresser. Here the patterns of the bed sheets are better viewed, and the door to the hallway is somewhat visible by the wardrobe. Disclaimer: the wardrobe I used (downloaded from 3D Warehouse) is supposed to have this pretty scrollwork on it, but it didn't show up very well in the renderings.

I still have the other bedroom and bathroom on level 1 to render as well as a view of the area in front of the master bedroom door (I'm in process of rendering that now, but it is slow going with the file as large as it is). I've added a retractable ladder to access the open attic space under the roof and will show that in my next reply.
----------------------------------------

| | | |
| --- | --- | --- |
| [Jul 17, 2016 3:25:56 AM] | | [Link] |