Posted by Puybaret at Jul 12, 2017 5:55:22 PM
Sweet Home 3D 5.5
Hi,

Here's a first beta version of Sweet Home 3D 5.5.
At the moment, it offers the following new features :
- The 0° / 45° / 90° radio buttons in the texture choice dialog box were replaced by a spinner to choose any texture angle.
- A Scale field was added to this dialog box to reduce or enlarge the default size of a texture (now also shown in the information tool tip of a texture). This may be handy when a texture is applied on a shape with texture coordinates you can't change, or if you want to alter the default size of a texture coming from a textures library.
- The list of recently used textures is now saved from a session to another.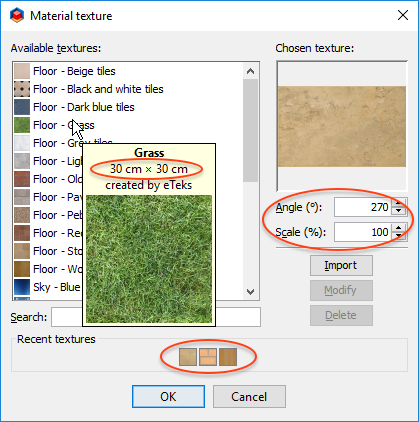 - Doors and windows now always cut out both sides of straight or round walls when they are parallel or tangent to them, whatever their depth is (but non-rectangular cut out shapes are still not supported in round walls). To avoid changes in your existing designed plans, this will work only for newly added doors and windows, except for service hatches that will continue to dig walls if their depth is smaller than wall thickness (the Service hatch piece has a new doorOrWindowWallCutOutOnBothSides property set to false).
When magnetism is active, a door will be automatically placed in the middle of a round wall, but without being resized.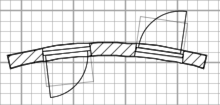 - The width and depth of an open door can now only be proportionally changed to avoid unrealistic results on thick walls. When placed on a straight wall, this kind of door will now be magnetized either on the left or on the right side of the wall without being resized, depending on where you place the mouse pointer (this is the case only for the open door in the default library for the moment, but I'll add the new doorOrWindowWidthDepthDeformable property to other 3D models in the free libraries when version 5.5 will be released).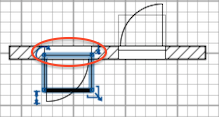 - I added the new Plan > Join walls that will join the free ends of the two selected walls at their intersection point, thus without changing the direction of the walls.



will become:



As many beginners seem to have problems to close a sequence of newly created walls, it's also possible to join walls when there are more than two walls in the selection, and the new menu item will be disabled only in the case selected items contain more than two walls with free ends or if they contain no wall with a free end.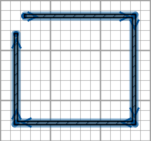 will become: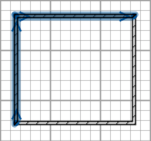 If the walls to join are parallel, it will work only if they are on the same row and in which case the first selected wall end will move to join the free closest free end of the other wall.


will become:



If the selection contains only one wall with free ends, its closest end to a wall will be moved to this wall.



will become:



- The Wall creation tool is now able to add only the missing walls around a room when you doucle-click in a room. This should make it easier to create the rooms of a whole house one after the other when you know their inner dimensions.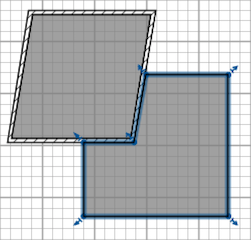 will become: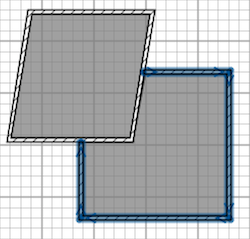 - I added the Creator and Model size items to the Plan > Display column and Plan > Sort by menus, to be able to handle this information in the furniture table. I still wonder what the Model size of a group should display (the sum of the children items sizes wouldn't really make sense in case a group contains more than one item of the same kind, like chairs or boxes), and how such rows should be sorted when the furniture list is sorted by model size.





To let you choose a furniture model from its size, I also added the model size and its default dimensions to the information tool tip of a piece of furniture of the catalog.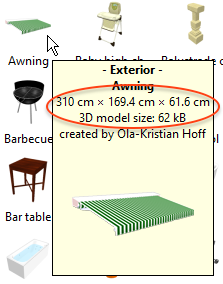 - For newcomers and any one looking for ideas, the new New from demo item was added to the File menu. This item shows a dialog box proposing nine different demos designed by Véronique, our great community manager.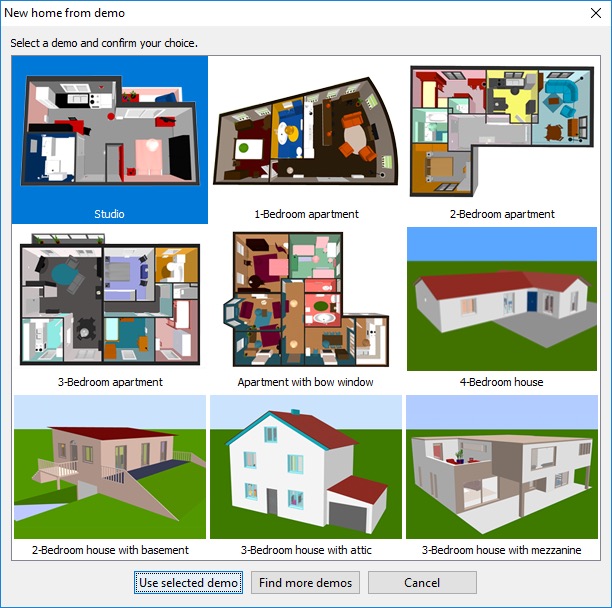 To avoid any potential problem with textures (and let you improve them at your taste), the demos use only colors. They also reference only 3D models of the default library to prevent Sweet Home 3D size to grow too much. These demos are available under CC-BY license as well as all the GNU GPL 3D models of the default library which are now available under two licenses. The header of these 3D models was updated accordingly whereas many models were optimized to reduce the size of their file, and 5 new models were added (a flat TV, flowers, an upper cabinet, a front door and a bed with sheets and pillows).

- It's now possible to choose the size in pixels of 3D model icons in the plan with a new preferences setting. From the default size 128x128, you can go up to 1024x1024, but be aware that using larger icons will make the program use much more RAM.






Finally, the following improvements and bug fixes were also added:

- Frustrum front and back distances are now computed differently to avoid a too far front distance at higher levels or a too close back distance when objects are added very far. Of course, I didn't find any miracle solution, so there might still be plans where the new solution won't work perfectly.

- I fixed an issue when a texture was displayed upside down.

- I fixed the file dialog issue which appeared under Windows 10 Creator update.

I hope you'll appreciate these new features and look forward to reading your feedback



[Note from developer: Sweet Home 3D 5.5 was released on September 6, 2017]
----------------------------------------
Emmanuel Puybaret, Sweet Home 3D developer