Posted by kevinw.randolph@gmail.com at Oct 3, 2016, 8:19:06 AM
Re: Sketchup furniture objects frequently lose a lot of detail on import. Is that normal?
Thanks for the info about how Media Fire links work.

Below is how I have the options selected. Previously, "Triangulate all faces" was NOT checked. I checked it but it didn't seem to make any difference.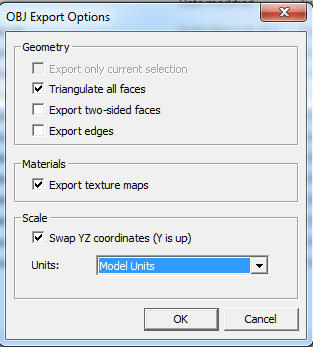 I exported using the .dae format as you showed in your post and it worked perfectly for the ones I was having problems with. I will try and stick to the .dae format for the other images and not use .obj anymore.

Thanks for your help!

Dang, but I really love this app! I'm using it for role playing game floor plans. Once get some 'dungeon' wall textures set up, I will be able to do dungeons rather quickly. When I buy a module, I can scan the floor plan into the computer and quickly generate a 3d version of the module that will help bring it to life better than the applications I have been buying in the past.

Sweet Home 3D is vastly superior to the others in sooo many ways.