Posted by Puybaret at Jan 16, 2013, 5:41:54 PM
Re: Sweet Home 3D 4.0
Here's the Beta 9 of Sweet Home 3D version 4.0. It brings the 3 following changes:
- under Linux, I programmed Alt + Shift shortcut to toggle magnetism. Please Linux users, check this; I can't check myself because I test Sweet Home 3D under Linux with Parallels Desktop and I feel keys like Alt or Shift don't send events correctly when pressed. Shift should activate alignment when moving objects, Alt + Shift should toggle magnetism and Ctrl should activate duplication, and it should be possible to combine these behaviors.
- Inspired from an old Hans' request, I added a new option to let user choose whether only the selected items in plan or all home items (including a ground item at elevation 0) should be exported to OBJ. This option is proposed after the file dialog displayed by 3D view > Export to OBJ format menu item. This feature should avoid to install the Copy as new furniture plug-in in the cases where Hans tutorials required it.
- As requested in a previous message, I added Pattern in plan and Top color in the 3D view options in the wall modification pane to be able to individually change the pattern used to draw a wall in the plan and the color used to paint a wall in the 3D view. Therefore, I removed the Wall top colour in the 3D view modification pane.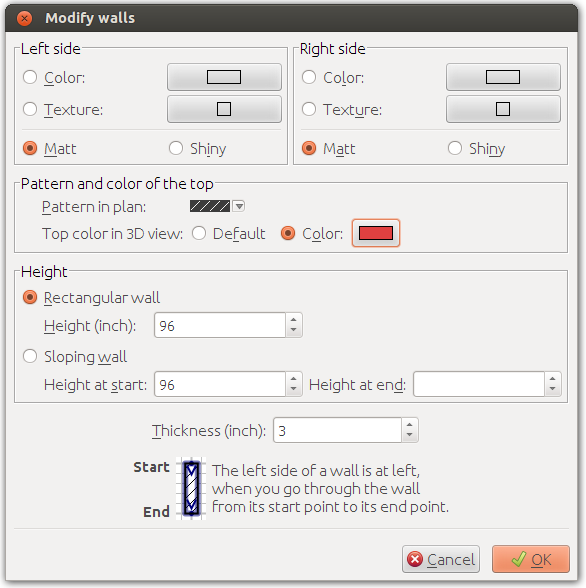 Hans, as the previous capture shows (partially), I have no problem to run Sweet Home 3D 4.0 under Ubuntu 12.04. I tried with both default JRE and Oracle JRE 1.6.0_37. Hope you'll find a solution in your case.
----------------------------------------
Emmanuel Puybaret, Sweet Home 3D developer