Re: Sweet Home 3D 3.4
Great to read it now works for you Hans.



Tonight, Beta 6 fixes a few bugs found in level management, while trying to build the attached file, built from the house plan available on this site. For your information, it took me more than 6 hours to reproduce the plan and the roof of this quite complicated house with 2 levels.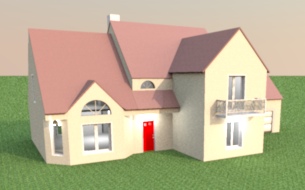 ----------------------------------------


House89.sh3d (249462 bytes) (Download count: 1052) (House built from plans available at http://www.construiresamaison.com/plans-maiso...cilienne-de-caractere-a89)

----------------------------------------
Emmanuel Puybaret, Sweet Home 3D developer