A few weeks ago, Viola wrote us to check the copyright mentions required for the images she designed with Sweet Home 3D for her work with refugees. We indicated the license information page to her, and she finally sent to us the final document she published under CC BY-NC-ND 4.0 license. Very impressed and touched by the context of her job, we proposed an interview to her to learn more.

Das Schlafzimmer by Viola Mathias (CC BY-NC-ND 4.0)
- You wrote very nice and interesting lessons to learn vocabulary about home objects. Can you describe your work? To whom did you design your lessons for?
I am a trained language teacher and graphic designer and live and work in Berlin. In 2015, Germany took in more than 1 million refugees. To be able to communicate and to be able to integrate into another culture, language skills are vitally important.
At the moment, I work in a refugee camp in Berlin teaching German as a foreign language. My students have different cultural backgrounds: Some are alphabetized and have completed a university degree. Some students have attended school for a certain period of time and others are illiterate and have no educational backgrounds. This is why I believe that teaching with images is truly effective. Students respond to images without any language barrier. It is an easy way to navigate between a huge heterogeneity in a classroom. With the help of Sweet Home 3D, I designed "Visualization Cards" which I used actively in my classroom. Those cards depict different rooms of a flat with different furniture, as well as different flats, houses and surroundings.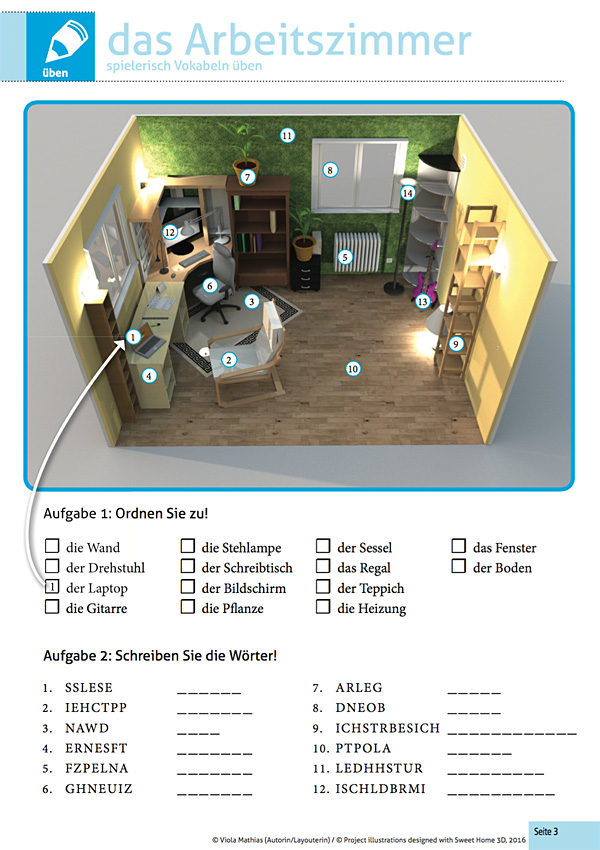 Das Arbeitszimmer by Viola Mathias (CC BY-NC-ND 4.0)
- Did you imagine these modules in a special way, for a specific public?
My material is suitable for anyone who wants to learn German in a visual way. For me it was important to incorporate as much visualization as possible for authenticity purposes.
- Did you know Sweet Home 3D before this work? Do you use it for yourself?

Before starting my project, I never heard of Sweet Home 3D. I actually came across it when I searched online for programs to visualize rooms and flats. It was very easy to learn and shortly after downloading, I could already start creating. That tipped the balance in favour of this program for me.
- You contacted us to check the copyright mentions required for images designed with Sweet Home 3D. Thank you for your request and displaying copyright mentions. Did these explanations in the license page were clear enough? What would you suggest to add?
The answer I got to my request was clear enough. I think it would be great if there was a ready made copyright phrase for different media online (e.g. What to write specifically in case of incorporation Sweet Home 3D images into a webpage or a print media, if it needs a specific place, and so on).
- You chose to publish your document under Creative Commons license BY-NC-ND 4.0. Can you explain this choice and what does it allow to the open source community in turn?
In Germany, there is a very competitive market for educational material. For me, it is important to make sure that the material will be available for free. If I had chosen a Creative Common license which would have granted more access, it would have been possible to use the material for commercial purposes as well. Now anyone can use my material in an educational purpose. They can upload it to any server, they can share it, print it and so on. The only thing users are not allowed to do, is to make money out of it.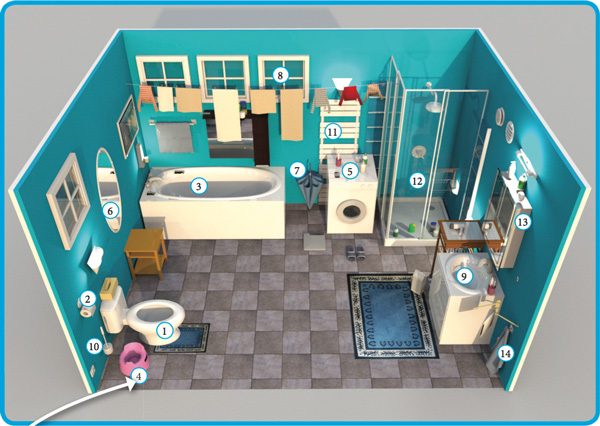 Das Badezimmer by Viola Mathias (CC BY-NC-ND 4.0)
Thank you very much, Viola, for your replies. Congratulations for helping these refugees.
All the images shown in this interview are excerpts from Modul Wohnen - Lernziel 2 - Arbeitsblatt: Zimmer und Räume by Viola Mathias (PDF document published under CC BY-NC-ND 4.0 license).