Philip Van de Gehuchte posted two of his creations in the forum. The latest one was a virtual museum dedicated to the contemporary artist Sidnei Tender. Made of images computed with Sweet Home 3D, it is available at http://www.tendlercontempo.com. Visit this museum and be sure to select the different rooms with drop down list at the left top of the page, it's amazing!
We were very curious to know how Philip made this. He kindly answered to our questions:


Tendlercontempo - Lobby
- What tools did you use to create this virtual museum?
In fact all the designing has been done in Sweet Home 3D, the textures such as the exposed paintings have been done in Photoshop. The renderings from Sweet Home 3D are assembled together in SharpStitch, and the interactivity is added via Krpano. On another level, there's other software involved like for instance the video and sound editing.
- Why did you prefer to use SharpStitch rather than computing equirectangular images with Sweet Home 3D?
I had to work around on this because importing spherical output from Sweet Home 3D was giving an error. Only a month ago I noticed that opening them in Photoshop and saving them differently solved that issue. I could have saved 3 days of work with that knowledge... :-)


Tendlercontempo - "6 monuments" room
- Can you tell us how long did you work on it? How long does it take to compute?
I guess it took about 160 hours from start to finish. Quite some time went in photographing and editing the exhibited paintings and aquarelles and putting them into importable textures.
The rooms are 24000 by 12000 pixels so I distributed the renderings over 3 computers (one i7 and 2 i5) to speed things up a bit. A rough estimate would be 5 hours per room on a decent computer.
Within the nature of my projects, I am really looking forward to have a GPU accelerated rendering in Sweet Home 3D.
- Is there a chance that your museum exists in real one day? In Brussels?
The main idea of the artist was to create an online place to have his catalogue for everybody to see. We went for the concept of a virtual museum. Funny side note is that this got the attention of an investor who actually thinks of having it physically in Brazil.


Tendlercontempo - "Qui a vécu à Paris" room
- Will you model this kind of virtual museum for other artists?
It won't be a bargain, but let's say we're always up for challenges. :-)


Tendlercontempo - "365 a visual diary" room
- And what happened to the "Plasticarium" project you showed last year?
The Plasticarium is a private collection of plastic furniture / Pop Art that has been bought by the Atomium in order to expose it to a broad audience. The shared layout was a conceptual version, designed how I felt the museum should have been, without the limitations of the budget. The final realization is totally different, but costing two Ferrari's less. :-)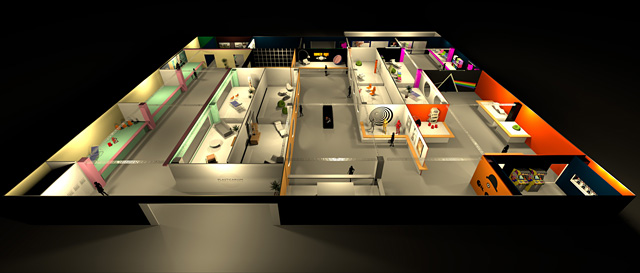 Plasticarium aerial view
- Are you a scenographer?
It's hard to describe my job, but "cross-medial experience designer" comes close to it. Within our organization LeMondeDumas we create public spaces and experience centers. Of course there's a lot of scenography/architectural design involved, but I also like to design the soundscapes, the interactive interfaces, lighting,... in order to make one immersive experience.

Plasticarium aerial view - "Post" rooms
- Will you use Sweet Home 3D for other artistic projects?
Sweet Home 3D is a perfect tool not only to express the concepts to others, but also to actually immerse yourself in the design of the space. Our stage / DJ project (like our Decap Beat Machine) requires a very specified technical rider, for which Sweet Home 3D is quite a handy tool in visualizing the setups.
At this moment I am even thinking of making a very weird short film in it.
Looking forward! Thank you very much Philip and congratulations for this inspiring way of using Sweet Home 3D.